More U.S. military deaths in the last 10 months of the Afghan war than in the first five years of the conflict. More boots on the ground than in Iraq.
As the U.S. military death toll in the Afghan conflict reached the 1,000 mark, a fight that has become "Obama's war" now faces its greatest challenge — a high-risk campaign to win over a hostile population in the Taliban's southern heartland.
More casualties are expected when the campaign kicks into high gear this summer. The results may determine the outcome of a nearly nine-year conflict that has become the focus of America's fight against Islamist militancy.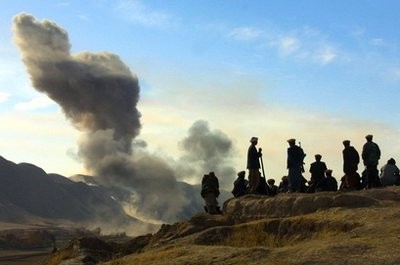 In this Nov. 19, 2001 file photo, Northern Alliance soldiers watch as U.S. air strikes pound Taliban positions in Kunduz province near the town of Khanabad, Afghanistan.
The 1,000 U.S. military death occurred in a roadside bombing Friday — just before the Memorial Day weekend when America honors the dead in all its wars.
A NATO statement did not identify or give the nationality of the victim. U.S. spokesman Col. Wayne Shanks said the trooper was American — the 32nd U.S. war death this month by an Associated Press count.
The list of U.S. service members killed in combat in Afghanistan begins with Sgt. 1st Class Nathan Ross Chapman of San Antonio, Texas, a 31-year-old career Special Forces soldier ambushed on Jan. 4, 2002, after attending a meeting with Afghan leaders in Khost province.