North Korea shows no signs it will test a missile soon, but succession politics in Pyongyang point to new provocative acts "in months and not years," the commander of U.S. military forces in the Pacific said on Thursday.
"There are no signs that I'm aware of that they're preparing for a near-term missile test," said Navy Admiral Robert Willard, head of the U.S. Pacific Command.
Willard declined to comment in detail on the capabilities of what satellite images show is a newly completed second North Korea long range missile launchpad at Tongchang-ri near the North's northwestern border with China.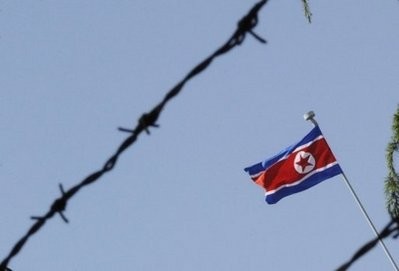 The North Korean flag flies over the nuclear-armed nation's embassy in Beijing.
But Willard, visiting Washington from his base in Hawaii, described North Korea's missiles as a growing, global threat.
"The continued development of their ballistic missile capabilities, combined with their continued development of nuclear weapons, is problematic for the Korean peninsula, it's problematic for Northeast Asia, it's problematic for the international community," he said at a think tank event in Washington.
Willard predicted that with ailing North Korea leader Kim Jong-il, 69, preparing his son Kim Jong-un for succession, Pyongyang was likely to resume the cycle of provocations against the South that last year saw two attacks that killed 50 South Koreans.
"We may very well be facing the next provocation in months and not years," he said.
The sinking of the South Korean warship Cheonan in March and the shelling of Yeonpyeong island in November follow "a very long line of provocative acts that began with Kim Il-sung, Kim Jong-il's father," said Willard.
The handover of power to Kim Jong-il from his father played out over two decades until the elder Kim's death in 1994, and North Korea often waited years between attacks such as the bombing of the South's cabinet in Myanmar in 1983 and the downing of a South Korean passenger jet in 1987.
Now, however, Willard said the United States was concerned about a "compressed time line" between attacks during the handover to Kim Jong-un, the untested third generation of dynastic rule in Pyongyang.
"South Korea's level of tolerance of a next provocation appears to be very low," he said.
The North is developing the so-called Taepodong-2 missile, with an estimated range of 4,160 miles, but testing so far suggests production of the complete weapon is a long way off.
The North's arsenal already includes intermediate-range missiles that can hit targets up to 1,860 miles away, officials say, putting all of Japan and U.S. military bases in Guam at risk.
North Korea detonated nuclear devices in 2006 and 2009, and conducted long-range missile tests three times -- in 1998, 2006 and 2009.