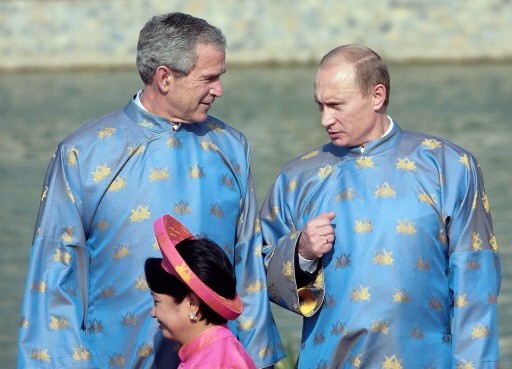 US President George W. Bush (L) talks to Russian President Vladimir Putin while waiting for taking part in the official photograph for the Asian Pacific Economic Cooperation (APEC) summit in Hanoi, Vietnam 19 November 2006
The United States and Russia on Sunday signed a bilateral agreement that paves the way for Moscow to join the World Trade Organization (WTO) after more than a decade of tough negotiations.
US Trade Representative Susan Schwab and Russian Economic Development Minister German Gref signed the pact on the sidelines of the Asia-Pacific Economic Cooperation (APEC) summit in Hanoi.
"Without doubt this accord is a very important occasion for the integration of Russia into the global economy," Gref said.
"I'm very pleased to be here today," Schwab said, "to have the opportunity to celebrate this very important milestone as Russia moves one important step closer to becoming a member of the WTO."
The deal comes ahead of bilateral talks between US President George W. Bush and Russian President Vladimir Putin, scheduled for later in the day.
The pact lifts one of the final obstacles standing in the way of Russian accession to the global trade body.
Viet Nam itself has just secured its own membership of the world trade body and will formally join by the year's end, also after tough negotiations with the United States.
Russia, the world's only major economy outside the WTO, has been trying to join the organisation since 1994 and the United States is the last major WTO member to give its assent.
With Washington on board, Russia now needs to clinch multilateral agreement with all 149 WTO members in Geneva, and may also have to overcome a bitter diplomatic standoff with WTO member Georgia.
US business groups urged Congress to move swiftly on granting Russia "Permanent Normal Trade Relations" (PNTR) status and to abolish Cold War-era limits imposed on commerce with the former Soviet Union.
Congress cannot block Russia's WTO accession but without PNTR, US and Russian businesses will not enjoy full access to each other's economies even after Moscow joins the global body.