NEW YORK (AFP) – US regulators on Saturday probed a stunning Wall Street crash that dragged the Dow Jones industrials average down almost 1,000 points in mere minutes and sparked panic on markets around the world.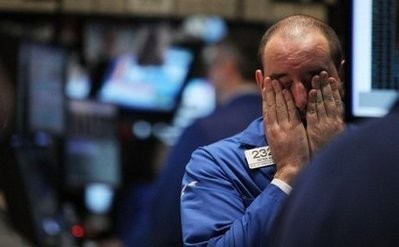 A trader rubs his eyes on the floor of the New York Stock Exchange. AFP photo
As indices in Europe plummeted and US markets swung wildly, President Barack Obama vowed Thursday's "unusual market activity" would be investigated.
"The regulatory authorities are evaluating this closely with a concern for protecting investors and preventing this from happening again," Obama said.
"They will make findings of their review public along with recommendations for appropriate action."
The panic that plunged the Dow well below 10,000 on Thursday spread to Europe, pulling down markets across the region. The European tumbles in turn spooked US investors beginning their trading day in New York, sending the Dow swinging wildly.
According to The New York Times, the initial focus of the investigations appeared to center on the way a growing number of high-speed trading networks interact with one another and with venerable exchanges like the New York Stock Exchange.
Most investors are unaware that these competing systems have fractured the traditional marketplace and have become the dominant force in stock trading, the paper said.
Thursday's stunning dive began without warning. The drop was so precipitous and unexpected it prompted immediate speculation about whether trader error or a technical glitch was involved.
At its lowest point, the Dow fell 998.5 points, dropping to 9,869.62. It then recovered half its losses, climbing back up almost as quickly as it had fallen.
Observers watched aghast as the markets nosedived, falling so quickly it was all but impossible to keep up. In little more than 10 minutes, billions of dollars in value was wiped out as investors deserted stocks wholesale.
By the session close, the blue-chip index had recovered significantly, but it was still down 348 points or three percent -- a steep drop that would have sparked concern even on an ordinary day.
On Friday the Dow lost another 139.89 points (1.33 percent), ending the week at 10,380.43 after a session in which it bounced in and out of positive territory.
The shocking sell-off came amid continuing concern about the stability of the eurozone, with many uncertain that a 110-billion-euro (140-billion-dollars) bailout package for Greece would be sufficient to stem the country's debt crisis.
Some experts also questioned whether the market was due for a correction after recovering with surprising speed from last year's lows.
But the speed of Thursday's slide suggested that a mistaken trade or computer error was involved, perhaps extending a decline based on eurozone fears.
Andy Brooks, a trader at T. Rowe Price, speculated the culprit was a so-called "fat finger" trade, in which a trader incorrectly enters data.
"I have no idea why it happened; when it falls that far and fast and bounces back that quickly, you figure it's an error or tech snafu," Brooks said.
Adding to the mystery were a series of unusual trades involving major stocks such as Procter & Gamble, which dropped 37 percent at one point, and 3M, which plunged 25 percent, setting off a chain reaction of computer-generated selling.
Reports suggesting that a Citigroup trader accidentally triggered trades worth 16 billion dollars, instead of 16 million, at the CME Group's Chicago Mercantile Exchange were dismissed by both the CME and Citi.
"As we have said, based on our review, rumors about a trading error by Citi are unfounded. It is troubling that inaccurate and unfounded rumors were spread as far as they were," said company spokesman Stephen Cohen.
The Nasdaq and the New York Stock Exchange also said there was no record of technical errors or glitches during Thursday trading.
As experts and investigators tried to dissect the crash and Congress planned a hearing for next Tuesday, Nasdaq CEO Bob Greifeld criticized the New York Stock Exchange for having slowed trading as stock prices plummeted.
"They basically walked from the stocks," he said on CNBC. "What do you think that sends as a signal to the rest of the market?"
Democratic Senator Ted Kaufman said the market plunge "must be carefully reviewed and placed within a meaningful regulatory framework soon."
But NYSE CEO Duncan Niederauer defended the exchange's small-scale "circuit-breaker."
"There's no walking away, there's no abandoning our obligations," he said on the financial news network. "They're for use in an extreme volatility situation," he added. "We're simply slowing down the race car."