WASHINGTON (AFP) – US lawmakers ended a third marathon hearing into Toyota's woes still angry at the Japanese auto giant's handling of defects blamed for 52 US deaths and pushing tough new safety rules.
"This is going to require strong legislative action," Democrat Jay Rockefeller, chairman of the Senate Commerce Committee, warned top executives at Toyota, which passed GM in 2008 to become the world's top carmaker.
"This has been useful, but not as useful as it should have been. And I regret that, because I know what kind of company you are and can be again," he told top executives of the embattled corporation.
US regulators, who frequently felt the panel's wrath during the roughly five-hour session, denied withering charges that too-cozy relations with Toyota made their agencies more lap dog than watchdog for the US public.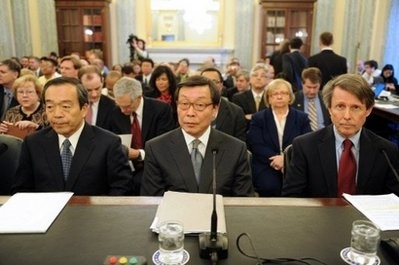 (L-R) Takeshi Uchiyamada, executive vice president of the Toyota Motor Corporation, Yoshimi Inaba, president and CEO of the Toyota Motor North America, and Clarence Ditlow, executive director of the Center for Auto Safety testify before the Senate hearing on "Toyota's Recalls and the Government's Response" on March 2, 2010 on Capitol Hill. AFP photo
National Highway Traffic Safety Administration chief David Strickland said NHTSA operated "with the highest level of ethics possible" and said corporate executives were not "roaming my halls" unless summoned and sharing information.
US Transportation Secretary Ray LaHood vowed a complete investigation into reported incidents of sudden, deadly spikes in speed and said he may call for all new US vehicles to have brakes that can override their accelerators.
"We are looking at the possibility of recommending the brake override system in all manufactured automobiles," said LaHood.
Toyota has announced it will install that feature -- which ensures that a vehicle's brake trumps its accelerator -- in all of its new vehicles in North America and several existing models.
Amid charges of Japan-bashing in the auto giant's home market, LaHood vowed to tell Japan during an upcoming visit that US regulators have treated Toyota more fairly than their Japanese counterparts treat US beef.
"It's a point well made," LaHood told Republican Senator Mike Johanns, who had accused Tokyo of double standards. "I'm going to raise it when I go to Japan."
As they had in two hearings last week, top Toyota executives apologized and unveiled a series of steps to restore consumer confidence in the Japanese giant, the only top-10 automaker to see US sales drop in February.
Toyota's top North America executive, Yoshimi Inaba, said that the company would give its US and Canadian divisions "more autonomy and decision-making power" on safety and recall issues previously handled exclusively in Japan.
US lawmakers had shown increasing anger at the way the company handled the defects, and expressed disbelief in two hearings last week when top Toyota executives said all safety and recall decisions are made in Japan.
Inaba also announced that a transportation secretary under former US president Bill Clinton, Rodney Slater, would lead a global quality control review.
Toyota's top engineer, Takeshi Uchiyamada, said the company would give US regulators up to 150 special devices to enable them to read the "data recorders" of vehicles that have crashed, where previously only Toyota could decode such "black boxes."
The offerings did little to quench the anger of lawmakers, who brandished Toyota documents showing the company worried about slipping quality as early as 2006 and regulators knew of Toyota acceleration problems as early as 2003.
The company has had to recall more than eight million cars and trucks worldwide, including six million in the United States.
"Somewhere along the way public safety took a back seat and corporate profits drove the company's decisions," said Rockefeller.
Democratic Senator Frank Lautenberg took aim at longtime appeals to struggling US carmakers that they model themselves on their Japanese rivals, especially Toyota, dryly observing: "We're not hearing that any more."
Under sharp questioning, Toyota executives denied that an electronic defect was to blame for the speed surges but vowed to take a second look after a US expert said last week he found just such a flaw.
Shortly before the hearing, LaHood's office said the US regulators were now looking into 43 complaints of deadly accidents involving sudden unintended acceleration in Toyota vehicles, involving 52 fatalities.
Johanns, noting that there had not been a single case of "mad cow" directly tied to US beef, wondered aloud how Japan would react if he called for a US ban on Toyota's products "because people have died because of the way they have conducted themselves."
He was referring to Japan's December 2003 ban on US beef amid "mad cow" fears, depriving the US cattle industry of what had been its richest market, and only loosening it in 2006 under strict conditions.