WASHINGTON, July 12, 2011 (AFP) - Washington is mulling further sanctions against Syrian President Bashar al-Assad and his inner circle amid reports that hundreds have been killed in a crackdown on pro-democracy protesters, a top US diplomat said Tuesday.
"We've done quite a bit already and we're exploring other sanctions," Assistant Secretary of State for Human Rights Michael Posner told US lawmakers at a hearing on Capitol Hill.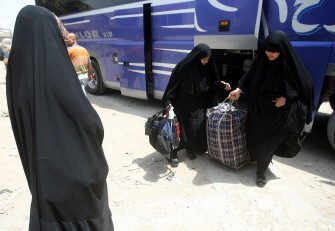 Iraqi refugees, who had fled to Syria following the 2003 US-led invasion of Iraq, carry their belongings upon their arrival in Baghdad on July 3, 2011. With the wave of protests against Syrian President Bashar al-Assad that began in March once again upsetting their lives, Iraqis who had fled their war-torn country are returning home. AFP
President Barack Obama signed an executive order in May, imposing targeted sanctions on Assad and several high-ranking Syrian government officials for their bloody crackdown on the country's pro-democracy demonstrators, Posner said.
Syrian activists have said that some 1,300 civilians have been killed and 12,000 arrested since mid-March, when the popular uprising began.
On Tuesday, they called for Assad to be referred to the International Criminal Court over the killings and arrests, and for the international community to bring more pressure on Damascus to allow reforms.
Posner told the congressional hearing that the situation in Syria "remains grim," with "numerous reports of attacks on civilians, including children."
"The United States has repeatedly raised concerns," he said.
But he side-stepped answering a question about whether the United States would refer Assad to the International Criminal Court in the Hague over the crackdown.
"We are at this stage reviewing a wide range of options, but for us the most important thing is to... deliver a message that we stand behind the Syrian people," he said.
The congressional hearing was held a day after pro-Assad demonstrators stormed the US and French embassies in Damascus, in apparent retaliation for a visit last week by the two countries' ambassadors to the city of Hama, where they observed a pro-democracy demonstration attended by half a million people.
The diplomats' trip to Hama drew accusations from the Syrian government that the US and France were meddling in Syria's internal affairs and inciting anti-Assad protests.