Afghanistan, July 2, 2009 (AFP) - Thousands of US Marines poured into Afghanistan's Taliban heartlands Thursday in an air and ground assault that marked a high-risk test for President Barack Obama's new war plan.
Dozens of aircraft ferried out US forces from bases before dawn, aiming to take control of insurgent bastions of Helmand province in the country's south ahead of landmark Afghan elections next month.
Involving nearly 4,000 US soldiers, it was the Marines' first major operation since they arrived in Afghanistan as part of Obama's aggressive new strategy to turn the tide on a dragging conflict with the Taliban.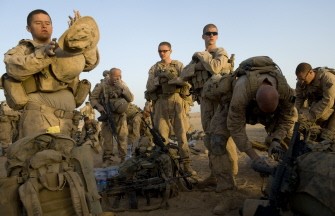 US Marines from 2nd Battalion, 8 Marine Regiment of 2nd Marine Expeditionary Brigade wait to board helicopters as they leave to take part in Operation Khanjar - Strike of the Sword - at Camp Dwyer in Helmand Province on July 2, 2009 (AFP photo)
"What makes Operation Khanjar different from those that have occurred before is the massive size of the force introduced, the speed at which it will insert," Marine commander Brigadier General Larry Nicholson said.
Several hours into the Marines' biggest battle since Fallujah in Iraq in November 2004, the only US casualties listed were two concussions from an improvised explosive device in Nawa district towards the border with Pakistan.
"Our aim is for us to be meeting local people within hours, and that's what we'll be doing for the next seven or eight months," Nicholson told AFP.
The operation called Khanjar, which means dagger in Dari and Pashtu but translated by the Marines as "Strike of the Sword", also involved about 650 Afghan police and soldiers.
A fleet of helicopters lifted about 300 soldiers from a desert camp called Dwyer at dawn with their commander confident they would have cleared a key road, secured a bridge and met with villagers by evening.
"I told my men everything they have done to prepare for this operation means they are ready to go," said Captain Junwei Sun, 39, commanding officer of 2/8 Infantry Battalion's Fox company.
Afghan security forces were driving out to their targeted area, where the forces would meet, he said. "We expect to encounter resistance and come into enemy contact," the captain added.
The first highly aggressive phase of the operation was set to last 36 hours, commanders said.
The troops were to push south down the Helmand River valley, deep into insurgent-held areas where foreign troops have failed to establish a presence despite ousting the Taliban from power in 2001.
Commanders said they would persuade locals that the Afghan security forces -- backed by Western troops -- offered them a better long-term future than the Islamist hardliners.
"This is a big, risky plan," Nicholson told his men at a briefing at Camp Leatherneck in the run-up to the battle's launch.
"It involves great risks and amazing opportunities. These are days of immense change for Helmand province. We're going down there, and we're going to stay -- that's what is different this time."
Reflecting the new US strategy, he stressed that the security needs of Helmand's residents came before killing Taliban.
"One of the most critical things is to tell people why we're there, and we are going to have a limited opportunity to gain their trust," Nicholson said.
"Our actions will allow voter registration in areas where there has been none," he told commanders and embedded reporters.
Key targets of the air and land assault include the districts of Nawa and nearby Garmsir, where many insurgents are said to take refuge and produce the opium that funds militants.
Officers walking through the battle plan on a large floor map said they expected to find 300-500 Taliban fighters in Nawa district.
They also spoke of the key role that would be played by teams clearing roads of improvised explosive devices -- favoured weapons of the militants.
Unmanned aerial surveillance would keep watch overhead while loudspeakers would keep local people informed, they said.
Afghan army corps commander General Shair Mohammad Zazai said the operation, conducted on three main fronts, would establish security "so that people can go and vote with confidence and without fear".
Authorities have been concerned that the Taliban could undermine Afghanistan's second-ever presidential vote with violence and intimidation.
"The goal of this operation is to retake control of areas which are not in government control and will continue until the goal is achieved," the Afghan defence ministry added.
Khanjar appeared to be the biggest joint operation in Afghanistan since March 2007 when British forces led 5,500 troops in a campaign in Helmand.