WASHINGTON, July 27, 2011 (AFP) - Spurred on by plunging stocks and fears of global economic crisis, polarized US lawmakers called a key vote for Thursday and privately hunted for a compromise to avert a default on the country's debt.
The House of Representatives was to take up Republican Speaker John Boehner's plan for raising Washington's $14.3 trillion debt ceiling in the face of US Treasury warnings the government cannot pay all of its bills past August 2.
But the measure, which faced a White House veto threat, seemed sure to die in the Democratic-held Senate even if it cleared the House -- sparking a frantic 11th-hour hunt for a compromise and final, razor's-edge votes in both chambers.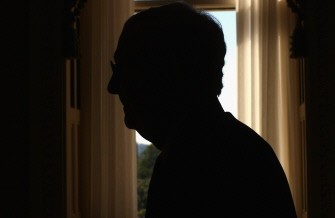 AFP - Senate Minority Leader Mitch McConnell (R-KY) walks back to his office following a vote on the Senate floor at the U.S. Capitol July 27, 2011 in Washington, DC
"The entire world is watching Congress," all 53 of President Barack Obama's Senate allies wrote Boehner in a letter warning they viewed his approach as one that "will do America more harm than good" and vowing to oppose it.
Democrats rallied behind a rival plan crafted by Democratic Senate Majority Leader Harry Reid but unlikely in its current form to pass the House, amid quiet efforts behind closed doors to plot an escape from a dangerous fiscal trap.
"Magic things can happen here in Congress in a very short period of time, under the right circumstances," Reid told reporters, declining to elaborate.
At the White House, spokesman Jay Carney said a compromise was "essential and doable" and said it was "essential for the health of the economy" to let cash-strapped Washington borrow to pay for its obligations.
Worried global markets feared the stalemate's possibly disastrous effects on the world economy, with US stocks dropping for the fourth straight trading session while investors seeking safe haven briefly sent gold to a new record.
And even a breakthrough deal to lift the debt limit might not spare the United States from losing its sterling Triple-A debt rating, a downgrade that could raise interest rates across the already ailing US economy, analysts said.
"There has to be a credible plan to reduce the debt burden as well as the deficit levels," said Standard & Poor's president Deven Sharma.
US stock markets sank and Treasury bond prices fell slightly under the weight of the stalemate, with the Dow Jones Industrial Average down 1.6 percent and the Nasdaq diving 2.7 percent.
After steadily falling against the euro since July 18, the dollar regained about 1.4 cents to $1.4374. It also regained slightly against the Swiss franc, which with gold has been the favored safe-haven in recent weeks, and against the Japanese yen.
Gold surged to $1,628.05, beating Monday's record, before dropping back to the $1,615 level.
The Boehner and Reid plans overlapped in key ways -- slicing spending over ten years by more than the debt ceiling hike they envisioned, shunning President Barack Obama's call for tax revenue increases on the rich and wealthy corporations, and creating special lawmaker committees to craft future cuts.
But Boehner's approach would force another debt-limit showdown during the 2012 presidential campaign, something Obama has fiercely opposed, while Reid would see the ceiling lifted to after the November 2012 elections.
Senate Finance Committee Max Baucus predicted an endgame that would see lawmakers "modify" Reid's bill to make it more appealing to Republicans ahead of a scheduled month-long August break.
"The world still is run by deadlines, there are debt limits and recesses. The two together are going to help us put this together. Those little jet fumes are going to get stronger and stronger," he quipped.
Republicans predicted Democrats would accept the Boehner plan's call for votes in both chambers on a balanced budget amendment to the US Constitution.
Washington hit its debt ceiling on May 16 but has used spending and accounting adjustments, as well as higher-than-expected tax receipts, to continue operating normally.
If there is no deal, the United States, still recovering from the 2008 recession with unemployment hovering around 9.2 percent, would have to cut spending some 40 percent, setting up a choice between debt payments and programs like government benefits for the poorest, most vulnerable Americans.
Asked about the potential for catastrophe, Republican Representative Blake Farenthold told reporters: "Hopefully we'll have this done by Tuesday... let's quit foolin' around."
Boehner strove Wednesday to tamp down a conservative revolt against his bill, re-writing it to boost its spending cuts component.
Farenthold said he had "shifted from leaning no, to leaning yes," because "we can't let the perfect be the enemy of the doable."