UNITED NATIONS, Sept 24, 2010 (AFP) - US and Iranian leaders on Thursday signaled a new desire to revive talks to end the standoff over Tehran's nuclear aims, despite a US-led protest against Iran's president at the United Nations.
In separate speeches at the UN General Assembly, Presidents Barack Obama and Mahmud Ahmadinejad said their governments were prepared for such talks, four months after Washington obtained harsh new UN sanctions against Tehran.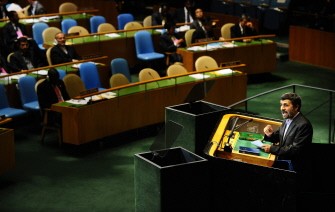 Iran's President Mahmoud Ahmadinejad addresses the 65th General Assembly at the United Nations headquarters in New York, September 23, 2010. AFP O/Emmanuel Dunand
In an interview, Ahmadinejad said the talks would likely begin in October.
Despite the positive tone on the nuclear front, however, Ahmadinejad infuriated the United States when he suggested the US government was involved in the September 11 attacks. The US delegation then led a Western walkout of the assembly.
The Iranian president said there was a theory that "some segments within the US government orchestrated the attack to reverse the declining American economy and its grips on the Middle East in order also to save the Zionist regime."
Ahmadinejad also attacked Israel and accused the West of monopolizing nuclear power.
Obama, who gave his speech before Ahmadinejad, "found the comments to be outrageous and offensive, particularly given how close we are to Ground Zero," a US official said on condition of anonymity.
In his own speech, Obama sounded positive but cautious about Iran's nuclear program.
"Let me be clear once more: the United States and the international community seek a resolution to our differences with Iran, and the door remains open to diplomacy should Iran choose to walk through it," Obama said.
"But the Iranian government must demonstrate a clear and credible commitment, and confirm to the world the peaceful intent of its nuclear program," Obama said in a wide-ranging foreign policy speech.
Washington fears Iran's nuclear program masks a drive to build a nuclear weapon, while Iran insists it is for purely peaceful purposes.
In his speech some five hours later, Ahmadinejad said Iran had long been ready for negotiations and dismissed any suggestion it is caving in to pressure.
"We have never submitted to illegally imposed pressures nor will we ever do so. It has been said that they want to pressure Iran into a dialogue," he said.
"Firstly, Iran has always been ready for a dialogue based on respect and justice. Secondly, methods based on disrespecting nations have long become ineffective," the Iranian leader said.
In Tehran, the ISNA news agency quoted Ahmadinejad as saying Iran is likely to hold talks with world powers over its nuclear program in October.
Following a meeting here Wednesday, US Secretary of State Hillary Clinton and her counterparts from Britain, China, France, Germany and Russia called for an "early negotiated solution" to the Iranian nuclear issue.
Two diplomats from the P5-plus-1 -- the five permanent members of the UN Security Council, plus Germany -- said on condition of anonymity that a meeting with Iran could take place this fall in Vienna or in Geneva.
A joint statement said the six powers were "ready to engage with Iran" in the context of implementing a deal agreed in Geneva in October last year under which Iran would give up enriched uranium in exchange for nuclear fuel.
It added that they looked forward to an "early meeting" with Iran and were prepared to discuss a "revised arrangement," apparently because Iran has enriched much more uranium since the earlier offer was made.
Under the deal, Iran would ship most of its low-grade uranium to France and Russia so that it could be enriched further and returned to Iran to fuel a medical research reactor in Tehran.
The deal had been designed to buy time and build confidence while the world community presses Iran to meet its demand to halt uranium enrichment.
But the deal stalled as Iran sought to modify its terms in another agreement that was brokered by Brazil and Turkey, an agreement that Ahmadinejad told the UN assembly "is still valid."
In June, a month after the new deal, the UN Security Council then approved a fourth round of sanctions against the Islamic republic, which in turn said it would suspend talks until September.
In Moscow, Russian President Dmitry Medvedev on Wednesday signed a decree banning supplies of S-300 missiles and other arms to Iran, in line with the tougher military and financial sanctions adopted in June.
Obama, whose administration spearheaded the drive for the sanctions, claims the sanctions are beginning to bite as Iran shows increasing signs it wants to return to the negotiating table.