A US missile strike on a militant compound in Pakistan's tribal district on the Afghan border killed 13 rebels and wounded five others on Saturday, local security officials said.
The strike took place in the village of Essori, 20 kilometres (13 miles) east of Miranshah, the main town in North Waziristan tribal district, known as a hub of Taliban and Al-Qaeda linked militants.
"One missile fired from a US drone struck a militant compound in the village killing at least 13 rebels, many among them foreigners," a senior Pakistani security official in the area told AFP on condition of anonymity.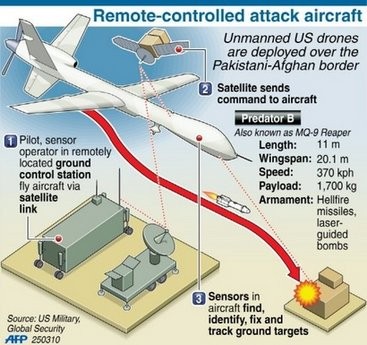 Fact file and illustration on the unmanned US drone Predator
He said five other militants were wounded.
A local tribesman owned the compound and the strike occurred during special Ramadan prayers, called Taraweehi, he added.
Another security official confirmed the strike and casualties but cautioned that the nationalities of the dead were not yet known.
"It is also not yet clear if there was any high value target present in the area at the time of attack," he added.
Militants sealed off the village and forced residents to stay in their houses after the attack, another security official told AFP.
US forces have been waging a covert drone war against Taliban and Al-Qaeda-linked commanders in Pakistan's northwestern tribal belt, where militants have carved out havens in mountains outside direct government control.
Washington has branded the rugged tribal area on the Afghan border a global headquarters of Al-Qaeda and the most dangerous place on Earth.
The US military does not as a rule confirm drone attacks, but its armed forces and the Central Intelligence Agency operating in Afghanistan are the only forces that deploy pilotless drones in the region.
Nearly 1,000 people have been killed in more than 110 drone strikes in Pakistan since August 2008, including a number of senior militants. However, the attacks fuel anti-American sentiment in the conservative Muslim country.
The United States has been increasing pressure on Pakistan to crack down on Islamist havens along the border.
Pakistani commanders have not ruled out an offensive in North Waziristan, but argue that gains in South Waziristan and the northwestern district of Swat need to be consolidated to prevent their troops from becoming over-stretched.
Waziristan came under renewed scrutiny when Faisal Shahzad, a Pakistani-American charged over an attempted bombing in New York on May 1, allegedly told US interrogators he went to the region for terrorist training.
Al-Qaeda announced in June that its number three leader and Osama bin Laden's one-time treasurer Mustafa Abu al-Yazid had been killed in what security officials said appeared to be a drone strike in North Waziristan