Rumsfeld has not discussed the controversy with the White House and was not considering resigning, said Eric Ruff, a spokesman for the secretary.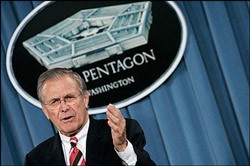 US Defense Secretary Donald Rumsfeld (AFP Photo)
White House spokesman Scott McClellan said Bush believes Rumsfeld "is doing a very fine job during a challenging period in our nation's history.
"We are a nation at war and we are a nation that is going through a military transformation. Those are issues that tend to generate debate and disagreement and we recognize that," he said.
Retired major general Charles Swannack, a former commander of the 82nd Airborne Division in Iraq, and retired major general John Riggs, also a former division commander, were the latest to call for Rumsfeld to go.
"I feel he's micromanaged the generals that are leading our forces there to achieve the strategic objective," Swannack told CNN. "I really believe that we need a new secretary of defense."
Riggs told The Washington Post "everyone pretty much thinks Rumsfeld and the bunch around him should be cleared out."
Analysts say the five retired generals are giving voice to the pent up resentment of active duty leaders, many of whom perceive Rumsfeld as arrogant and dismissive of military advice.
Rumsfeld, who has had prickly relations with the military and Congress almost from the start of his first term in 2001, has survived prior calls for his resignation.
He offered Bush his resignation after the Abu Ghraib prison abuse scandal in 2004, but the president turned it down.
Top Democrats, including Senator John Kerry, Democratic contender at the last presidential election, have joined recent calls for a change of Pentagon leadership.
And the latest military challenge comes from retired generals with direct experience of the Iraq war.
They also include retired major general John Batiste, who led the 1st Infantry Division in Iraq; retired major general Paul Eaton, who led initial efforts to train Iraqi security forces; and retired general Anthony Zinni, a longtime critic of the Iraq war and former head of Central Command.