PHUKET, Thailand, July 23, 2009 (AFP) - US President Barack Obama's administration is bidding to counter China's growing clout in Southeast Asia with steps to revive ties with a region of nearly 600 million people.
Secretary of State Hillary Clinton signed a friendship pact here Wednesday with the 10-country Association of Southeast Asian Nations (ASEAN) amid complaints that Obama's predecessor George W. Bush had neglected the group.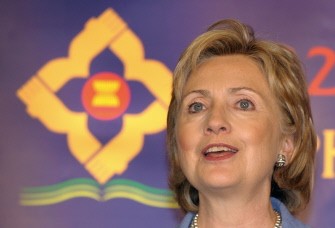 US Secretary of State Hillary Clinton speaks at a joint press conference with Thai Foreign Minister Kasit Piromya on the sidelines of the Association of Southeast Asian Nations ministerial meetings at a hotel in Phuket on July 23 (AFP photo)
"I want to send a very clear message that the United States is back, that we are fully engaged and committed to our relationships in Southeast Asia," she said before the signing in the resort of Phuket.
Clinton's predecessor Condoleezza Rice skipped two ASEAN regional forums, upsetting members that had been used to a long line of chief US diplomats attending.
The Obama administration, Clinton said, will also announce the appointment soon of a permanent ambassador to ASEAN headquarters in Jakarta. The current US ambassador for ASEAN affairs is based in Washington.
John Harrison, a security analyst at Singapore's Nanyang Technological University, said the signing of the pact "is designed to try to re-establish a more active US presence in Southeast Asia particularly vis-a-vis China."
"The US wants to make sure that Southeast Asia still feels that it is an important area for the US and does not want to create the perception that there is a vacuum that China would come in and fill," he told AFP.
As part of her diplomatic offensive, Clinton promised that the Obama administration will stand firm in the face of what she called concerns that North Korea may be shipping conventional weapons and even nuclear know-how to Myanmar, an ASEAN member.
Cooperation between Pyongyang and Yangon would be "destabilising" for the region, Clinton said after talks on Tuesday with Thai Prime Minister Abhisit Vejjajiva.
The signing in Phuket, on the eve of Asia's biggest annual security forum, known as ARF, marked the US accession to the Treaty of Amity and Cooperation in Southeast Asia.
It fulfilled a pledge Clinton made when she visited Indonesia in February on her first tour abroad as secretary of state, when she also visited China and traditional allies Japan and South Korea.
By inking the pact, which contains commitments to peaceful settlement of disputes and non-interference in domestic affairs, Clinton is signalling Washington's desire to deepen ties and offset China's power, diplomats say.
But the United States nonetheless faces growing competition from China, which inked the same treaty six years ago and has emerged as a key player in meetings with ASEAN.
Clinton earlier this year warned that a Bush administration policy of isolating anti-US countries in Latin America like Venezuela threw them into the arms of China and Iran.
But the United States actually has an edge over China in East and Southeast Asia, according to a survey conducted in early 2008 by the Chicago Council on Global Affairs.
Based on public opinion surveys in ASEAN members Vietnam and Indonesia as well as China, Japan and South Korea, the report reveals that perceptions of China's "soft power" generally trail those of the United States and Japan.
By "soft power" it meant economic, cultural and political clout, as opposed to military power.
Analyst Harrison said meanwhile that Bush had not totally neglected Southeast Asia, pursuing counter-terrorism cooperation with the Philippines for example.
"Certainly, the Obama administration wants to establish a different tone in the relationship with Southeast Asia and this (signing of the treaty) is a very important step."
The new US approach to relations has "a broader tone. It is one that focusses both on security and also on the broader cultural and economic issues that may not have been as emphasised during the last administration."
ASEAN is made up of Brunei, Cambodia, Indonesia, Laos, Malaysia, Myanmar, the Philippines, Singapore, Thailand and Vietnam.