The United States vowed Monday to bolster cooperation with Algeria in fighting terrorism after twin suicide bombings at a military academy in the North African country left 18 people dead.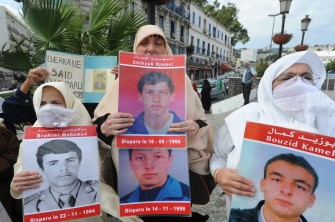 Women hold photos of loved ones and the date of their disapearances on August 28, 2011 during a congregation of families in Algiers, marking the Intenational day of missing persons
"The United States strongly condemns the August 26th terrorist attack on a military academy in Cherchell, Algeria," State Department spokeswoman Victoria Nuland said.
"The US and Algeria have a strong bilateral relationship, and this tragedy highlights the need to continue to bolster our joint efforts as partners to fight terrorism in all its forms," she said.
The Algerian defense ministry said 16 officers and two civilians were killed and 26 people wounded in Friday's attack on the Cherchell military academy, west of Algiers. Sources said Syrian and Tunisian officers were among the dead.
Al-Qaeda in the Islamic Maghreb on Sunday claimed responsibility for the twin suicide attacks in Algeria, accusing the regime there of supporting Moamer Kadhafi in neighboring Libya.