US auto sales roared ahead in September, gaining 13 percent from a year earlier and posting the best sales pace since March 2008, industry data showed Tuesday.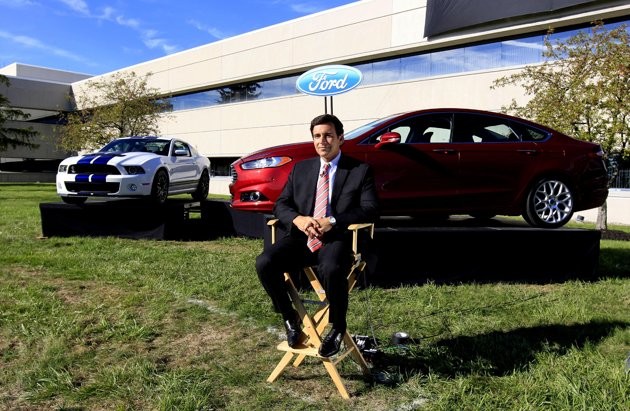 In this Sept. 10, 2012, file photo, Mark Fields, Ford president of the Americas, poses for a photo next to a 2013 Fusion at the Flat Rock Assembly in Flat Rock, Mich.
Asian automakers were the big winners in September as Toyota and Honda's sales continue to rebound from last year's supply shortages caused by the Japanese quake and tsunami. Chrysler also managed to post a double digit gain.
General Motors and Ford both saw their market share slip by about two points as their sales stalled in September, but the two largest automakers expressed optimism for future growth.
"Auto sales will continue to be a bright spot for the US economy, which is particularly good news for GM as we walk into an even stronger cadence of new products in 2013 and 2014," said Kurt McNeil, head of GM's US sales.
He forecast that "slow, gradual growth" will continue for the overall industry while GM is set to gain from "significant untapped potential" as it unleashes a major product offensive.
The US auto giant said it has "moved aggressively to replace existing vehicles with better designs, more technology and improved fuel economy" which means 70 percent of its nameplates will be all new or redesigned in 2012 and 2013.
Chrysler also forecast a strong performance going forward after September sales rose 12 percent to 142,041 vehicles.
"Last month marked our 30th consecutive month of year-over-year sales increases and our strongest September in five years," Reid Bigland, Chrysler's head of US sales, said in a statement.
"Going forward with our current product lineup, record low interest rates and a stable US economy, we remain optimistic about the health of the US new vehicle sales industry and our position in it."
Ford economist Ellen Hughes-Cromwick said the outlook for the overall economy is improving and forecast that total auto sales will come in between 14.5 million and 15 million this year.
"The economic fundamentals are still pointing towards modest economic growth but there are now signs of a better housing recovery ahead," she said in a conference call.
"Consumer confidence picked up, house prices are up, house sales are growing, employment's up about 1.4% over a year ago."
Total industry sales came in significantly higher than expected in September at a seasonally adjusted, annualized rate of 14.94 million units, according to Autodata.
That's up from a pace of 14.52 million in August and 14.09 million in July.
Ford's sales slipped 0.1 percent in September to 174,976 vehicles as truck sales fell eight percent. But the second largest US automaker hailed the fact that sales of its small cars jumped 73 percent to a decade-high.
"Fuel economy remains one of the most important features customers want most today, and Ford is answering the call with five vehicles that deliver 40 mpg or better -- with another three on the way by year-end," said Ken Czubay, head of US sales at Ford.
Toyota came within just a few thousand vehicles of overtaking Ford for the number two spot in the US market as its sales jumped 42 percent to 171,910 vehicles and its market share grew to 14.4 percent from 11.5 percent a year ago.
"We don't really have anyone else on our radar screen," Bill Fay, general manager of the Toyota Division, said in a conference call.
Fay said Toyota has made "good progress" in "slowly gaining back some of what we lost over the last year or two" and expects "we'll continue to be able to make some progress in the fourth quarter."
Honda sales jumped 31 percent to of 117,211 vehicles, while Korean automakers Hyundai and Kia saw their sales rise 15.3 percent to 60,025 vehicles and 35 percent to 48,105 vehicles respectively.
Nissan, which did not have significant supply disruptions last year, saw its sales fall 1.1 percent to 91,907 vehicles.
Volkswagen extended its gains following an aggressive expansion in the US market as sales rose 34 percent to 36,663 vehicles in September.