The Obama administration has asked a federal appeals court to block the publication of images showing detainee abuse, citing concern it could incite violence in Pakistan, Iraq and Afghanistan.
The motion filed in a New York court Thursday included two partially classified statements by the top US commander in Iraq -- General Raymond Odierno -- and US Central Command (CENTCOM) chief General David Petraeus, who oversees US military operations in the Middle East and Central Asia.
The release of the images, Petraeus said, "would likely deal a particularly hard blow to USCENTCOM and US inter-agency counterinsurgency efforts ... as well as further endanger the lives of US soldiers, Marines, airmen, sailors, civilians and contractors presently serving" in Iraq and Afghanistan.
Earlier this month, President Barack Obama reversed a decision to release the photos, believed to number in the hundreds, saying he feared it would cause a backlash against US troops in the two theaters of conflict.
But Petraeus went even further in his statement, going at length to argue that the images could also cause an uptick in violence in Pakistan as it launches an offensive against the Taliban, who thrive in the lawless border region between Afghanistan and Pakistan.
Odierno said top Iraqi officials had told him that releasing the images would disrupt democratic progress in Iraq ahead of upcoming national elections.
Distributing the photos poses "a clear and grave risk of inciting violence and riots against American and coalition forces, as well as civilian personnel, serving in Iraq and Afghanistan," according to the court filing.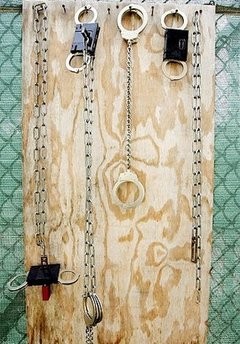 Leg irons and hand cuffs hang on a board at Camp Delta at Guantanamo Naval Base in Guantanamo, Cuba, in 2004.
The photos were ordered released as part of a long-running Freedom of Information Act (FOIA) lawsuit filed by the American Civil Liberties Union (ACLU).
The Bush administration had argued against the release of the photos in part by saying it violated the privacy rights of the detainees under the Geneva Conventions.
Federal courts have ruled against the government in a series of decisions, but Obama had instructed administration lawyers to try a new argument that the photos could put troops in Iraq and Afghanistan at risk, according to the White House.
The Defense Department on Thursday strongly rejected a report in The Daily Telegraph that alleged photographs of abuse at Iraqi prisons include images of rape and sexual assault.
The British paper quoted Major General Antonio Taguba, an ex-army officer who published a scathing report in 2004 into the abuse scandal at the notorious Abu Ghraib prison. Taguba said the photos showed rape, torture and abuse and that he supported Obama's decision not to release the images.
In its filing Thursday, the Obama administration also said it planned to appeal to the Supreme Court a 2008 ruling by the New York court general concerns about harm to public safety were not specific enough to warrant blocking the distribution of the images.