The UN's highest court is to rule Monday on a request by Cambodia for an immediate Thai troop withdrawal from a disputed border area around an ancient Khmer temple, where clashes have taken place.
International Court of Justice president, Judge Hisashi Owada, is expected to read the court's order at 10:00 am (0800 GMT) at the Hague-based Peace Palace, where the ICJ is seated.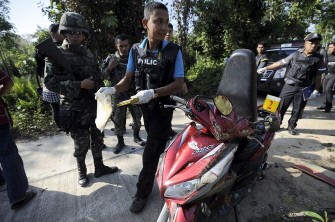 Thai police officers inspect the site where a Muslim religious leader and his wife were shot dead by suspected separatist militants as they were riding a motorcycle in Thailand's restive southern province of Narathiwat on July 11, 2011.
"The court will deliver an order Monday on Cambodia's request for Thailand to stop military activity" in the area, an observer close to the ICJ told AFP, adding Owada would be accompanied by a 14-judge bench and two ad hoc judges.
Cambodia in late April launched a bitter legal battle before the ICJ in which it asked for an interpretation of a 1962 ICJ ruling around the 900-year-old Preah Vihear temple.
At the same time, while the court pondered its decision, Cambodia also asked judges to approve provisional measures including an immediate Thai troop withdrawal and a ban on all Thai military activity there.
Although Thailand did not dispute Cambodia's ownership of the temple, secured by the 1962 ruling, both Phnom Penh and Bangkok claimed the 4.6-square-kilometre (1.8-square-mile) area surrounding the Khmer complex.
The two countries orally argued their cases before judges at the end of May with Cambodian Deputy Prime Minister Hor Namhong asking for "an immediate and unconditional withdrawal of all Thai forces from those parts of Cambodian territory situated in the area of the temple of Preah Vihear."
Phnom Penh also asked that "Thailand refrained from any act or action which could interfere with the rights of Cambodia or aggravate the dispute in the principal proceedings."
Thailand's ambassador to the Netherlands, Virachai Plasai, responded by saying his country requested the ICJ to scrap Cambodia's case from the court's general list.
Bangkok however did say in June that it would respect the ICJ's order.
In February the United Nations appealed for a permanent ceasefire after 10 people were killed in fighting near the Preah Vihear temple.
However fresh clashes broke out in April further west, leaving 18 dead and prompting 85,000 civilians to flee.
Cambodia said although there had been clashes in the past, Thai aggression substantially increased after July 2008, when the UN's cultural body UNESCO listed the temple as a World Heritage site.
But the 11th-century complex has been at the centre of a long legal wrangle between Thailand and Cambodia -- which first took its southeastern Asian neighbour to the ICJ in 1959 over the issue.
Established in 1945, the ICJ is the UN's highest judicial organ and it settles disputes between states. It is the only one of six principal UN organs not located in New York