LONDON, July 17, 2011 (AFP) - British media groups vied Sunday to attract readers of the defunct News of the World tabloid, but analysts warned that a short-term sales surge could be followed by long-term collapse in the market.
The closure of the paper a week ago amid the phone hacking scandal could see many readers abandoning newspapers altogether, while the problems facing Rupert Murdoch, an avowed fan of newsprint, are bad for an already ailing industry.
In the past week, British paper owners have hiked print runs, launched marketing campaigns and plans are reportedly afoot for at least one new Sunday title.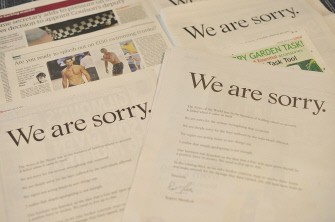 AFP - An apology is seen in Britain's national newspapers by News Corporation Chief Rupert Murdoch in London on July 16, 2011
After years of falling circulations, rival publishers are desperate to woo the News of the World's estimated 7.5 million former readers.
Douglas McCabe, an analyst at London-based media watchers Enders Analysis, told AFP the next few weeks could see Sunday newspaper sales rocket.
"There is going to be an enormous amount of activity over the next few weeks," he said. "Every single title will massively increase their print runs."
He added: "Circulations might actually be quite robust. I think they might go up, really go up significantly."
It is unheard of for the most popular product in a market place to disappear almost overnight and rivals of News International, Murdoch's British newspaper wing, have piled in gleefully.
The most striking response has been from the Daily Mail, a mid-market daily selling around two million copies a day, which is reported to be planning a new mass-market Sunday tabloid.
A dummy edition will be circulated internally in the company this weekend and it could launch as soon as the following week, the Guardian daily reported.
The mid-market Mail on Sunday, which normally sells just under two million copies, is printing more than three million this weekend, while tabloid the Daily Star on Sunday is more than tripling its print run to 2.2 million, reports said.
The mid-market Sunday Express, and populist tabloids the People and the Sunday Mirror are all said to be increasing their print runs.
But rival media companies may have only a narrow window to benefit from the disappearance of the 168-year-old News of the World.
News International is rumoured to be laying the ground to launch a Sunday version of its daily Sun tabloid, Britain's most popular daily which sells 2.8 million copies a day.
This may not happen for several months, however, as News International waits for public outrage over the hacking scandal to subside.
Allegations the paper hacked into the phone of a murdered teenager were the first of many hacking claims to emerge in the past fortnight, which have heaped pressure on Murdoch's News Corp., the parent company of News International.
Most analysts said the effect of the most popular Sunday title disappearing could only be negative in the long run.
"I think the Sunday market will shrink because when any newspaper closes some of its readers are lost," said Ivor Gaber, a professor of political journalism at London's City Journalism.
And despite his optimism about the short term, McCabe at Enders Analysis saw a bleak future, predicting up to half of the News of the World's readers would desert newspapers for ever.
"To take a longer and broader-term view... up to half of News of the World's sales could effectively vanish," he said.
Murdoch, 80, has a sentimental attachment to his papers, despite the fact many of them do not turn a profit, and most analysts play down the likelihood of him selling off News International.
But with Labour leader Ed Miliband calling Sunday for Murdoch's British empire, which also includes pay-TV giant BSkyB, to be broken up, commentators believe anything could happen.
While the left in Britain would celebrate the fall of the once-mighty media mogul, some raise fears about who would fill the void.
They point to the acquisition of the Independent newspapers by Russian billionaire and former KGB agent Alexander Lebedev last year, and the ownership of Express newspapers by Richard Desmond, who made much of his fortune from the pornography industry.
"A media baron who is a devotee of newspapers, a breed that is rapidly becoming extinct, (Murdoch) has patiently pumped money into 'quality titles' such as The Times of London and America's Wall Street Journal," noted the Economist magazine in an editorial this week.
"If he sold his British papers to, say, a Russian oligarch or Richard Desmond, the cost-cutting mogul behind the Express and the Red Hot TV porn channel, how many journalists would cheer?"