AMMAN, Aug 23, 2011 (AFP) - UN special envoy to Libya Abdul Ilah al-Khatib said in remarks published Tuesday that the Libyan regime had sought his intervention ahead of a weekend assault by rebels on the capital.
"A few days before the rebel assault on Tripoli started, Libyan officials urged me to intervene," Khatib, a former Jordanian foreign minister, told the semi-government Al-Dustur Arabic daily in an interview.
"I told them that as a mediator I was looking for anything that is acceptable to the other side, which has refused to talk about anything else but the departure of Libyan leader Moamer Kadhafi."
Khatib said the rebels "were not in the mood for negotiating anything else. They were seeking decisiveness and a commitment that Kadhafi would leave before negotiations."
Libyan rebels declared the Kadhafi era over after storming Tripoli on Sunday, but his son Seif al-Islam insisted the battle was far from over as he defiantly refuted reports of his arrest.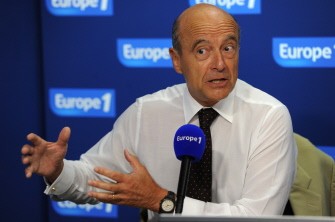 AFP- French Foreign Affairs Minister Alain Juppe speaks on the set of French radio "Europ 1" during a political show focused on Libya situation on August 23, 2011 in Paris
Exultant rebel fighters packed in trucks and cars have since Sunday streamed across the capital of the oil-rich North African state, seizing control of Kadhafi's state television network and Tripoli's seaside Green Square.
"The Libyan leadership have misread and underestimated the international position, thinking it would weaken or change," Khatib said.
"My mission is about to end. But I will spare no efforts to provide any help in the coming short period."
Khatib and UN leader Ban Ki-moon's special advisor on post-conflict Libya, Ian Martin, were to travel to Doha this week to meet leaders of the Libyan transitional government.