Experts will inspect Iran's new uranium enrichment plant on October 25, UN atomic watchdog head Mohamed ElBaradei said on Sunday, praising Tehran's shift "from conspiracy to cooperation" but warning that "concerns" remain over its nuclear aims.
ElBaradei told a news conference in Tehran that Iran had given the assurance International Atomic Energy Agency (IAEA) inspectors would be given access to the new plant, in a mountain near the holy city of Qom, south of Tehran.
"Iran's case can be solved through dialogue," the IAEA chief said, as quoted by the official IRNA news agency.
"At present we are shifting from confrontation to cooperation and I am asking Iran to continue its transparency," he added.
"We are now on an appropriate path. The agency and the international community and Iran have started constructive talks."
ElBaradei was speaking after talks with President Mahmoud Ahmadinejad and other officials about Iran's nuclear drive, which the West believes is a cover for a nuclear weapons programme.
Ahmadinejad was later quoted by the Iranian news agency ISNA as saying that all matters between the Islamic republic and the IAEA had been ironed out.
"Because of good cooperation between Iran and the agency, important issues were resolved and today there is no ambiguous issue left between Iran and the agency," the hardline president was quoted as saying.
ElBaradei at the news conference indicated that Tehran had been late in disclosing that it was building a new uranium enrichment plant near Qom.
"Based on the IAEA regulations, all countries should inform the IAEA on the day they begin construction" of a nuclear plant. Iran informed the agency on September 21, about a year after it building work began.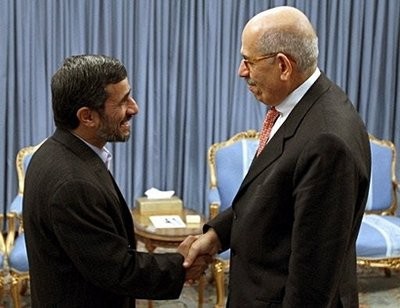 ranian President Mahmoud Ahmadinejad (L) shakes hands with the International Atomic Energy Agency (IAEA) chief, Mohamed ElBaradei.
The UN atomic watchdog chief said talks between Western powers and Tehran were a "step in the right direction," but warned that suspicions remained.
"There are concerns about Iran's future intentions and this is not a verification thing," he said.
"Iran has mastered enrichment technology. Iran has a fuel cycle, has research facility and will have a nuclear plant. But there are still some questions about Iran's intentions and thus the inspections are ongoing."
Iran has repeatedly denied it is making atomic weapons, saying that it is against its religious values.
ElBaradei said the IAEA has "no concrete proof" of a weaponisation programme in Iran when he was asked about Saturday's New York Times report that a confidential analysis by the IAEA had tentatively concluded that Iran had acquired sufficient information to design and produce a "workable" atom bomb.
"There are allegations that Iran has conducted weaponisation studies... we are still looking into, we are looking to Iran to help us to clarify and looking to those suppliers for clarification," ElBaradei said.
"But we do not have any information that any component of nuclear weapon has been manufactured. We are concerned but we are in no way panicking about Iran's nuclear programme. However we need to work with Iran to clarify these issues."
In Washington, National Security Adviser James Jones told CBS television that US officials "stand by the reports that we've put out" on the state of Iran's nuclear abilities and reports that it now has the knowledge to build a nuclear bomb.
"Whether they know how to do it or not is a matter of some conjecture, but what we are watching is what is their intent, and we have been worried about that intent," he said.
ElBaradei also announced that officials from the United States, Russia, France and Iran would hold talks in Vienna on October 19 on the possible higher enrichment abroad of Tehran's uranium.
The meeting is a follow up to talks in Geneva last Thursday between six world powers and Iran over Tehran's nuclear drive, the first such talks in 15 months. Analysis: The Geneva talks
Iran tentatively agreed in Geneva to ship some of its stocks of low enriched uranium (LEU) abroad for processing into fuel for an internationally supervised research reactor in Tehran.
Amid fears among Western powers that Iran may have amassed enough LEU eventually to create a nuclear bomb, senior US officials and analysts have said such a move might help lower tensions.
ElBaradei was guest of honour at a banquet Sunday night hosted by the head of the Iranian Atomic Energy Organisation, Ali Akbar Salehi, since this was his last visit to Iran as IAEA chief, the ISNA news agency reported.