THE HAGUE, July 7, 2011 (AFP) - The UN's highest court is to rule July 18 on a request by Cambodia for Thailand to immediately withdraw its troops from an area around an ancient temple where clashes have taken place, the court said Thursday.
"On Monday 18 July 2011, the International Court of Justice... will deliver its order on the request for the indication of provisional measures submitted by Cambodia," the court said in a statement published on its website.
Cambodia in late April launched a bitter legal battle before the ICJ, in which it requested an interpretation of a 1962 court ruling around the 900-year-old Preah Vihear temple.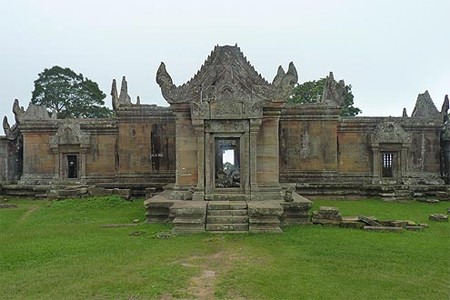 (File) Preah Vihear temple
It also asked the court to approve provisional measures while the court pondered its decision, including an immediate Thai troop withdrawal from the area and a ban on military activity there.
Although Thailand did not dispute Cambodia's ownership of the temple, secured by the 1962 ruling, both Phnom Penh and Bangkok claimed the 4.6-square-kilometre (1.8-square-mile) area surrounding the Khmer complex.
Thailand has asked for the case to be scrapped in its submission, but said in June it would respect the ICJ's ruling.
In February the United Nations appealed for a permanent ceasefire after 10 people were killed in fighting near the Preah Vihear temple.
However fresh clashes broke out in April further west, leaving 18 dead and prompting 85,000 civilians to flee.
Cambodia said though there had been clashes in the past, Thai aggression substantially increased after July 2008, when the UN's cultural body UNESCO listed the temple as a World Heritage site.