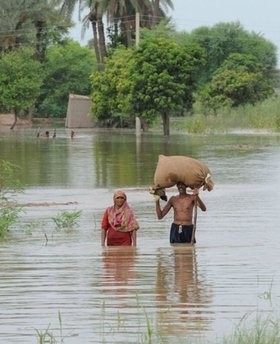 Pakistanis wade through a flooded town in Pathan Wala. AFP
ISLAMABAD (AFP) – UN chief Ban Ki-moon has appealed to the international community to step up aid for flood-ravaged Pakistan, warning the "heart-wrenching" disaster is far from over.
Ban held talks with Pakistani leaders and flew with President Asif Ali Zardari over some of the worst affected areas of the central province of Punjab on Sunday.
"I'm here to urge the world to step up their generous support for Pakistan," he told a news conference with Zardari.
The UN secretary general said he would never forget the "heart-wrenching" scenes of destruction he had witnessed.
"Many have lost families and friends. Many more are afraid their children and loved ones will not survive in these conditions," Ban said.
Aid agencies were monitoring the risk of "a second wave" of deaths in the shape of water-borne diseases.
Sami Abdul Malik, spokesman for the UN children's fund UNICEF, said six million children were affected by the disaster.
"Children are always vulnerable. They cannot control their thirst, they will drink any type of water and may get watery diarrhoea, cholera, malaria and other diseases," he told AFP.
The United Nations has confirmed at least one cholera case and said 36,000 people were reportedly suffering from acute diarrhoea.
Ban said a possible 20 million people were directly or indirectly affected by the floods and that one fifth of the country had been ravaged.
"This disaster is far from over. The rains are still falling and could continue for weeks.
"The United Nations and international community and international humanitarian community are moving as fast as we can to help the government deliver desperately needed humanitarian assistance," Ban said.
The UN has appealed for 460 million dollars to deal with the immediate aftermath of the floods, but has warned that billions will be needed in the long term as villages, businesses, crops and infrastructure have been wiped out.
Pakistan's weak civilian government has appealed to the global community to help it deal with the challenges of a crisis compared by Prime Minister Yousuf Raza Gilani to the sub-continent's 1947 partition.
Charities have complained that relief for those affected by the worst natural disaster in Pakistan's history is lagging far behind what is needed, with six to eight million people dependent on humanitarian aid to survive.
Ban announced a further 10 million dollars from the UN central emergency response fund, making a total of 27 million dollars since the beginning of the crisis. "As the waters recede, we must move quickly," he said.
Zardari said it would take at least two years to restore the livelihoods of people affected by the floods.
"This is a long-term affair. It is a two years' campaign," Zardari said. "We have to consider and keep it in mind that for two years we have to give them crops, fertilisers, seeds, and look after them and feed them to take them to where they were."
Fresh floods hit the southwestern province of Baluchistan at the weekend, devastating hundreds of villages and causing tens of thousands to flee, said Sher Khan Bazai, the commissioner in the town of Jaffarabad.
"The situation is grim. I saw people sheltering on the roofs of trucks and buses as bridges and roads have been washed away," Bazai said, adding that authorities had only one helicopter and four boats for rescue missions.
The UN estimates that 1,600 have died in the floods, while the government in Islamabad has confirmed 1,384 deaths.
The nuclear-armed country of 167 million people is on the front line of the US-led fight against Al-Qaeda. Western governments have traced overseas terror plots back to Taliban and Al-Qaeda camps in the lawless tribal mountains.