Serbia's ultranationalist Radical Party claimed victory in national elections on Sunday, in a voter rejection of Western appeals for closer cooperation on the arrest of war criminals and on Kosovo.
A projection of the result showed the opposition Radicals, strongest party in Serbia for years, taking 28 percent of the vote, a point higher than the 2003 national elections.
"The Radical Party has won these elections," said Tomislav Nikolic, the Radical's candidate for prime minister in the absence of party leader Vojislav Seselj, who is on trial for war crimes at the U.N. tribunal in The Hague.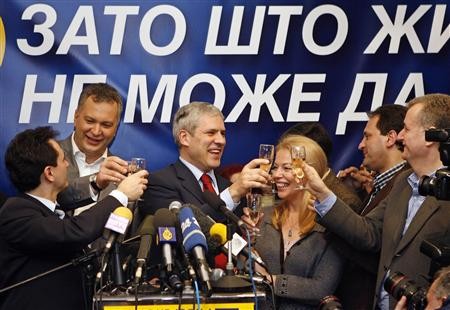 Serbia's President and leader of the Democratic Party Boris Tadic (C) toasts with the party's officials their elections result.
His only regret was the Radicals did not win 50 percent.
"That spoils our celebration tonight because we're convinced that hard days lie ahead for Serbia," said Nikolic. "Until the Radicals form a government, things will be tough for Serbia."
Western capitals worried about Serbia's future course could take heart in the fact the pro-Western opposition Democratic Party of President Boris Tadic nearly doubled its share of the vote, at 23 percent.
The projection from Serbian electoral commission, based on actual results counted, showed neither of the two parties had enough votes for a parliamentary majority.
Outgoing Prime Minister Vojislav Kostunica's Democratic Party of Serbia (DSS) was seen as having 17 percent of the vote. Kostunica courted the nationalist vote in his campaign and has not ruled out allying with the Radicals if he ends up kingmaker.
A coalition of their two parties would have a slim majority in the 250-seat parliament. A DSS coalition with the Democrats would need the liberal G17 party to form a majority.
"Coalition talks are ahead of us," Kostunica told reporters. "We are open, we expect other parties to be responsible."
The West made clear to Serbs before the elections that they should turn their backs on nationalism if they hoped to join the European Union and NATO, and make up for a decade of isolation, war and sanctions under late leader Slobodan Milosevic.
OPPOSITE ENDS
Germany and Russia issued statements of encouragement during the day to opposite ends of the political spectrum.
German Chancellor Angela Merkel said she wanted to see "democratic forces" strengthened -- underscoring the West's desire for a constructive approach on the breakaway Kosovo province and the handover of war criminals still at large.
Russian President Vladimir Putin said he would oppose independence for Kosovo if Serbia rejected a plan that diplomats say will give self-determination to the province's 90 percent ethnic Albanian majority.
Russia is considered an ally of fellow Orthodox Christian Serbs, although it has by no means always backed Belgrade.
Most Serbs saw the election as a crossroads choice about future prosperity, realising their economic prospects are inextricably linked to two tough political issues that will decide how they stand with the EU and NATO.
The EU froze talks on closer ties with Belgrade in May. It said they would resume only when former Bosnian Serb general Ratko Mladic, charged with genocide, was on trial in The Hague.
Tadic's Democrats say arresting Mladic is a priority. The Radicals are unlikely to hand over a man they see as a hero.
No major Serb party concedes the loss of Kosovo. Tadic has come closest to telling Serbs it might be a fact the country has to come to terms with, while the Radicals and Kostunica vow no surrender of the province, cradle of Serbia's Orthodox faith.
United Nations envoy Martti Ahtisaari is due to make public his expected proposal for a form of "supervised independence" for Kosovo in early February.
Kosovo has been run by the United Nations and patrolled by NATO since 1999 when Western powers bombed Serbia to drive out Milosevic's troops, accused of killing civilians while fighting an insurgency.
James Lyon, analyst for the International Crisis Group, said coalition talks would be tough because no party wanted to handle a popular backlash over Kosovo.
"No one wants to be in power when Kosovo gets independence," said Lyon.