Britain's two main parties were locked in a power struggle Friday after an inconclusive election — with Labour's Gordon Brown suggesting he would try to form a coalition and Conservative leader David Cameron insisting the prime minister no longer had a mandate to govern.
Cameron — whose Conservatives outpolled Labour but fell short of winning a majority in Parliament, according to TV projections — claimed that voters had rejected Labour in Britain's national election Thursday.
"Our country wants change. That change is going to require new leadership," Cameron said early Friday, acknowledging negotiations may be needed to determine who will form the next government. "What will guide me will be our national interest."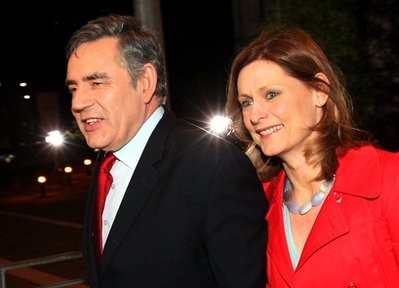 The leader of the Labour Party, Gordon Brown, left, and his wife Sarah, right, are seen arriving to the count at Kirkcaldy, Scotland, in the early hours of Friday, May 7, 2010
Speaking earlier in Scotland, Brown vowed to "play my part in Britain having a strong, stable" government — the clearest sign yet that he would try to cling to power and seek an alliance with the third-place Liberal Democrats. He also pledged action on election reform — a key demand of his would-be partners.
Both men seemed relatively subdued, reflecting not just a tiring campaign but also a political culture that prizes strong government and views ambiguous election outcomes as unfortunate.
Political wrangling and a period of uncertainty appear ahead for one of the world's largest economies — a prospect that could unsettle global markets already reeling from the Greek debt crisis and fears of wider debt contagion in Europe. Britain's budget deficit is set to eclipse even that of Greece next year, and whoever winds up in power faces the daunting challenge of introducing big cuts to slash the country's huge deficit.
In London, bond trading started in the middle of the night — six hours earlier than normal — as traders tried to capitalize on early forecasts. UK government bonds rallied in the hope that the Conservatives might manage to form a government.
Official results early Friday showed the Conservatives overtaking Labour in the number of seats won, 226-175, according to broadcaster ITN, with the Liberal Democrats capturing 36 seats.
An analysis by Britain's main television stations suggested the Conservatives will win 305 of the 650 House of Commons seats, short of the 326 seats needed for a majority. Labour was expected to win 255 seats and the Liberal Democrats 61, far less than had been expected after their support surged during the campaign.
The biggest Labour scalp to be lost in the election was former British Home Secretary Jacqui Smith, who earlier quit her Cabinet post after a widespread expenses scandal. Smith was caught attempting to bill the public for porn movies watched by her husband.
But Labour won the northern England seat of Rochdale — where Brown last week made the biggest gaffe of the campaign, caught on an open microphone referring to an elderly voter as a "bigoted woman" after she buttonholed him on immigration. Brown later visited her home to apologize.
Turnout for Thursday's vote appeared to be high but hundreds of people across the country were prevented from voting when polls closed at 10 p.m. The head of Britain's Electoral Commission said legal challenges to some ballot results were likely from those turned away.
Police had to go to one polling station in east London after 50 angry residents denied the chance to vote staged a sit-in protest. Voters in Sheffield, Newcastle and elsewhere in London also complained that they had been blocked from voting.
The biggest surprise of the night was the poor performance of the Liberal Democrats, whose telegenic leader Nick Clegg had shot to prominence due to stellar TV debate performances and had been expected to play the role of kingmaker. Instead, the party appeared doomed to keep its perennial third-party status.
Robert Worcester, an analyst for pollster IPSOS Mori, said the Liberal Democrats' poor showing could be attributed to a low turnout by their supporters. "They said they would vote and they didn't," he said.
Still, projecting elections based on exit polls is risky — particularly in an exceptionally close election like this one. Polls are based on samples — in this case 18,000 respondents — and always have some margin of error. In addition, thousands have also already cast postal ballots but those results don't factor into the exit polls.
Conservative leaders were adamant that the results meant Brown must go.
"No way this man, who has failed this electoral task, can contemplate forming a government," Conservative Party chairman Eric Pickles said of Brown.
But senior Labour figures lost no time in reaching out to the Liberal Democrats in hopes of blocking Cameron.
Foreign Secretary David Miliband said, given the election results, Labour and the Liberal Democrats were "honor bound" to talk to each other.
Business Secretary Peter Mandelson, also Labour's election chief, noted that in a "hung parliament" — one in which no party has a clear majority of seats — the sitting prime minister is traditionally given the first chance to form a government.
In an apparent opening pitch to the Liberal Democrats, Mandelson backed their call for an end to the existing system in which the number of districts won — not the popular vote — determines who leads the country.
"There has to be electoral reform as a result of this election," Mandelson said. The current system, he said, "is on its last legs."
Still, Cameron appears to have a chance of returning rightwing icon Margaret Thatcher's party to power after 13 years in the political wilderness — even though he may have to seek deals with smaller parties.
In theory, a majority requires 326 seats. However, in practice Cameron could govern as a minority government with a dozen or so fewer because of ad hoc alliances he could form for key votes, and the fact that some parties would be unlikely to join a discredited Labour camp.
The Conservatives were ousted by Labour under Tony Blair in 1997 after 19 years in power. Three leaders and three successive election defeats later, the party selected Cameron, a fresh-faced, bicycle-riding graduate of Eton and Oxford who promised to modernize its fusty, right-wing image.
Under Brown, who took over from Blair three years ago, Britain's once high-flying economy, rooted in world-leading financial services, has run into hard times. In addition, at least 1.3 million people have been laid off and tens of thousands have lost their homes in a crushing recession.
Despite the uncertainty, California Gov. Arnold Schwarzenegger — a known supporter of Cameron — said on his Twitter feed he'd already called the Tory leader to congratulate him.
"Even though results aren't in we know the Conservatives had a great day," Schwarzenegger wrote.