LONDON (AFP) – Britain's main party leaders launched a final day of campaigning Wednesday with one poll suggesting that almost four in 10 voters in the cliffhanger general election had yet to decide who to back.
And with a succession of opinion polls giving the opposition Conservatives only a narrow lead going into Thursday's voting, the scene was set for a dramatic finish to what has been the closest election battle for a generation.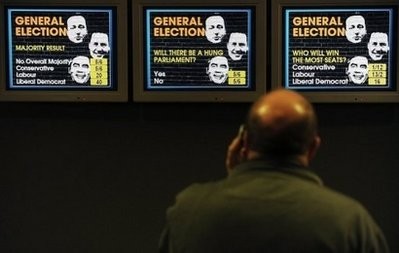 A customer looks at information screens displaying the odds on the result of this week's general election in a bookmakers in central London. AFP photo
The party leaders were to crisscross the country on a frantic last day of campaigning.
David Cameron, whose Conservative party are ahead in opinion polls, embarked on a 24-hour battlebus tour in a bid to fulfil a commitment to visit every part of Britain.
Cameron's all-night campaigning push ahead of the vote takes him through northern and central England, into Wales, before finishing in the city of Bristol, southwest England.
"We are going at it all night, all day, all next day, all the way through to polling day," he said at a rally in Renfrewshire, Scotland, Tuesday.
"That is how we are going to win the election."
The Conservatives are fighting to oust the ruling Labour Party after 13 years in power.
But the strong poll lead they enjoyed several months ago has now been whittled down to a few points.
Most surveys indicate they would not win enough seats in the House of Commons to be able to form a government on their own, leading to a hung parliament.
The latest ComRes poll for ITV News and The Independent newspaper showed no change on the previous day, with the Tories on 37 percent, Labour on 29 and the Liberal Democrats 26.
But it also indicated that nearly four in 10 voters had not yet made up their mind who to back, suggesting all was still to play for.
Gordon Brown, fighting to secure a historic fourth term in office for Labour, was to travel through northern England and Scotland Wednesday.
At a campaign rally late Tuesday in Manchester, northwest England, Brown appealed to voters to "come home" to the party.
"When the last 48 hours of this campaign has passed, in that one minute in the polling booth vote for the kind of country you believe in, and come home to Labour," he said.
But there were mixed messages from Labour over the issue of tactical voting.
Cabinet ministers Ed Balls and Peter Hain signalled Labour supporters should cast their ballots for Nick Clegg's centrist Liberal Democrats in seats where it was a tight race between the Lib Dems and the Tories.
Tactical voting in the swing constituencies, which essentially decide the results of British elections, could keep the Conservatives out of power, they suggested.
"Of course I want the Labour candidate to win but I understand people's concerns about letting the Conservatives in," said Balls, who is education minister.
He also urged Lib Dem supporters to "bite their lip" and vote for Labour in seats where it was a tight race between the governing party and the Conservatives, in comments to the New Statesman magazine.
But Labour campaign coordinator, Douglas Alexander, appeared to disagree with his colleague, warning: "If you vote for the Liberal Democrats you could wake up on Friday morning and see a Conservative-led government, including Liberal Democrats."
Clegg dismissed talk of tactical voting as "another sign of Labour's desperation."
His party has enjoyed a surge of support in the election campaign on the back of his performance in TV debates, and he is anxious to avoid tactical voting, fearing it could dent his party's share of the popular vote.
This would damage his negotiating power in the event of a hung parliament, with commentators suggesting he could hold the balance of power.
On the campaign trail in Glasgow, Scotland, Clegg urged voters to back his party to usher in a "new kind of politics" -- one of his party's main policies is reform of the voting system towards proportional representation.
"Support us. Support us in our campaign in these vital last crucial hours of the election campaign and deliver the fairness, the difference, the real change that I think Glasgow and Britain deserve."