Israel was bracing Thursday for weeks of political turmoil after Prime Minister Ehud Olmert's shock announcement he would step down in September, casting a shadow over Middle East peacemaking.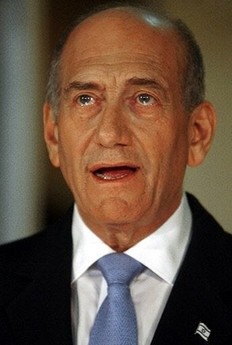 Israeli Prime Minister Ehud Olmert delivers a statement to the press at his Jerusalem residence, July 30. Olmert announced Wednesday that he will resign, opening the way for political jockeying within Olmert's centrist Kadima party, which is scheduled to hold an unprecedented leadership vote on September 17, and renewed calls for snap elections.(AFP/POOL/File/Eliana Aponte)
Wednesday's announcement opened the way for political jockeying within Olmert's centrist Kadima party, which is scheduled to hold an unprecedented leadership vote on September 17, and renewed calls for snap elections.
"Everyone in this government is responsible for a string of failures. We must let the people decide through new elections," right-wing opposition leader and former prime minister Benjamin Netanyahu told public radio.
Opinion polls indicate the Likud leader is a favourite to replace the embattled Olmert, whose time in office since early 2006 has been dogged by a string of corruption allegations and dismal popularity ratings.
Olmert's decision also raised questions over the next steps in the hobbled peace process with the Palestinians and recently launched indirect talks with longtime foe Syria.
But the US administration, which has played a key role in the negotiations with the Palestinians, insisted Olmert's departure would not dampen the US-backed peace process formally relaunched in November.
Asked if US President George W. Bush still hopes for a peace deal this year, national security spokesman Gordon Johndroe said in Washington: "We will continue to work on a deal before the end of the year."
The long-dormant peace talks were revived at a conference in Annapolis, Maryland, eight months ago with the goal of resolving the decades-old conflict by the end of 2008, but have made little tangible progress since.
Johndroe said Bush had spoken with the 62-year-old Olmert just before his announcement, adding that the US president "wishes him well."
Announcing his decision on Wednesday, Olmert insisted he was innocent of the series of graft allegations that in recent months had led to a chorus of calls for his resignation.
His surprise move marked the apex of a political storm unleashed when police launched a probe in May over suspicions he had accepted vast sums of money from US financier Morris Talansky to fund elections campaigns and a lavish lifestyle in the 13 years before he became premier in 2006.
"I have made mistakes and I regret it," Olmert said in a televised address from his official residence in Jerusalem.
"I will quit my duties in an honourable, just and responsible manner, as I have acted throughout my mandate. I will then prove my innocence."
Olmert, who also came under pressure over the Lebanon war in 2006, said he will step down after the Kadima primary and will "happily accept the outcome" of the vote.
Foreign Minister Tzipi Livni -- who has traded increasingly sharp barbs with Olmert in recent weeks -- and hawkish Transport Minister Shaul Mofaz are seen as the top contenders to take the helm of Kadima.
Both Livni and Mofaz have said they favoured forming a government of national unity.
But Netanyahu said he had no intention or reaching any deal with the new Kadima leader following the party's leadership primary.
"This government has finished its mission, irrespective of who will head Kadima," said Netanyahu, who served as prime minister between 1996 and 1999.
Even top Kadima members admit the increasingly fractured party will have a tough time forming a new government.
"I don't believe there are many chances that a government led by Kadima can be formed as the political world has entered such a zone of turbulence that it will be difficult to restore calm," Deputy Prime Minister Haim Ramon told army radio.
Defence Minister Ehud Barak, whose Labour party is currently Kadima's key partner in the governing coalition, welcomed the prime minister's announcement, calling it "appropriate and correct," according to an aide.
Last month Barak pushed Olmert to schedule the Kadima primary by threatening to support a bill to dissolve parliament.