Senior diplomats will gather in Turkey on Wednesday for a global conference aimed at mapping out the future of war-torn Afghanistan after Western troops depart.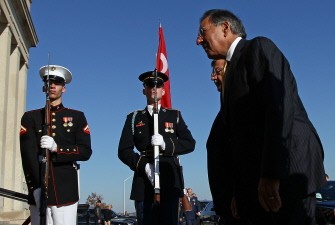 U.S. Secretary of Defense Leon Panetta (R) welcomes Turkey's Minister of National Defense Ismet Yilmaz (L) to the Pentagon November 1, 2011 in Arlington, Virginia
Representatives from 20 countries will join aid agency members at the talks in Istanbul almost 10 years after the Taliban were driven out of power in Kabul.
The summit is intended to chart the way ahead for Afghanistan, with the US-led NATO mission already locked into troop drawdowns that are scheduled to bring all foreign combat troops home by 2014.
Despite the billions of dollars poured into the country since coalition forces ousted the Taliban from power in mid-November 2001, Afghanistan remains one of the poorest countries in the world. Half of its 30 million population lives below poverty line, according to the United Nations.
The Taliban's resilience a decade after being driven from overall control of the country was again underlined on Saturday when it killed at least 17 people in a car bomb attack on a NATO convoy in Kabul.
The gathering takes place a day after a trilateral summit hosted by Turkish President Abdullah Gul: Afghan President Hamid Karzai and Asif Zardari of Pakistan travelled to Istanbul in a bid to ease tensions and promote cooperation between the two neighbours.
Tuesday's talks saw Afghanistan and Pakistan agree to cooperate with an investigation into the murder of former Afghan leader and peace negotiator Burhanuddin Rabbani.
Kabul had accused Islamabad of refusing to cooperate in the probe into the murder, which Afghan authorities say was planned in Pakistan and committed by a Pakistani suicide bomber.
"We were hurt badly by the assassination of Rabbani," said Karzai after the closed-door talks. "I hope this cooperation will produce results."
Zardari said: "We want to be a responsible partner to bring peace to the region."
Pakistan was the Taliban's chief diplomatic backer when it was in power and is regularly accused by both Kabul and Washington of helping destabilise its northern neighbour.
Absent from Wednesday's conference will be US Secretary of State Hillary Clinton who cancelled her visit to Istanbul after her 92-year-old mother died. Her deputy William Burns will take her place, a spokeswoman said.
The US provides more than two-thirds of a total of 140,000 foreign troops currently in Afghanistan.
As well as the United States, the other four permanent members of the UN Security Council -- Britain, China, France and Russia -- will take part in the conference.
But one notable absentee is Iran, which has a long border with western Afghanistan.