Tunisia's interim government will be reshuffled on Wednesday, ministers said after protesters demanding a purge of former regime loyalists clashed with fellow Tunisians urging an end to the demonstrations.
Libyan leader Muammar Gaddafi also said he feared that the Tunisian revolution which overthrew president Zine al-Abidine Ben Ali was being exploited by "foreign interests."
Hundreds rallied in the capital Tunis on Tuesday in support of the interim government formed after Ben Ali's fall, later clashing with protesters who complain that it is dominated by former members of his RCD party.
In the deprived central city of Gefsa, Tunisian soldiers fired in the air to disperse hundreds of demonstrators, the first time the army has intervened since Ben Ali's departure on January 14, and witnesses said a young man set himself alight.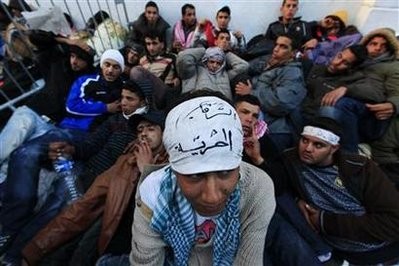 Protesters from Tunisia's marginalised rural heartlands prepare to spend their second night outside the Prime Minister's office in Tunis January 24, 2011.
The interim government has struggled to assert itself in the face of street protests demanding more sweeping changes.
A new cabinet lineup will be announced on Wednesday, mainly to fill posts vacated by five resignations over the past week, Education Minister Tayeb Baccouche told Reuters. Another minister said some provincial governors would also be replaced, but the government remains dominated by former RCD members.
Gaddafi expressed his concerns in an interview broadcast on the private Tunisian Nessma television station, and denied that he had invited Ben Ali to shelter in neighboring Libya.
"I fear for the Tunisian revolution because I see foreign intervention ... It serves foreign interests," Gaddafi said.
"Who said I invited Ben Ali? I did not invite him," he said. "This is nonsense ... I do not go against the interests of the Tunisian people."
Some Tunisians demanded steady rather than abrupt change.
"RCD members need to get out little by little, but now this is a dictatorship of the people where there is anarchy. We must little by little trust each other, we must listen to each other," said a doctor who gave his name as Labib.
Government supporters carried posters with slogans such as "Have patience, there is no magic wand," "The people support the government to save the revolution" and "We won our freedom, now we must prove to the world we deserve this revolution."
Scuffles broke out as the two groups, numbering around 1,500 in total, clashed on the main Bourguiba Avenue, grabbing each other's posters and trying to tear them up.
Foreign Minister Kamel Morjane, who was also in Ben Ali's government, warned against a political vacuum.
"The people's revolution has no political leadership and represents the best way to ensure the transitional period, respect the constitution and avoid a political vacuum and its aim is to lead the country to free, transparent elections," he said after meeting European diplomats in Tunis.
Morjane also said Tunisia would ask friendly countries to assist in democratic transition.
RURAL PROTESTERS
On Monday police fired teargas to disperse protesters from rural areas outside the office of Prime Minister Mohamed Ghannouchi -- who held the same post under Ben Ali.
The protesters have set up camp at the government compound beside the old city, or casbah, of Tunis.
Police barricades around the area helped to dampen protests on Tuesday against Ghannouchi. But the Tunisian General Labor Union announced a general strike on Wednesday in Sfax, Tunisia's second city and economic center.
Teachers and doctors also went on strike in Sidi Bouzid, the town where a young man's self-immolation sparked the revolution that has shaken authoritarian leaders across the Arab world.
Witnesses said another man, Alaadine Kmat, had set himself alight in Gefsa but remained alive. Kmat burned himself after the army intervened in to break up a protest outside the union headquarters to demand better economic opportunities.
Inspired by Tunisia's example, thousands of Egyptians took to the streets of Cairo, Alexandria and other cities on Tuesday to demand an end to President Hosni Mubarak's 30-year rule, clashing with police who fired teargas and used water cannon.
The sudden end of Ben Ali's 23-year rule by mainly young people protesting against poverty, corruption and political repression has electrified the Arab world, in most of which ordinary people face similar problems.