U.S. President Donald Trump called Tuesday for allies "whether in NATO, in the Middle East or the Pacific" to pay their fair share of the defense cost as he delivered his first address to a joint session of Congress, source from the Yonhap.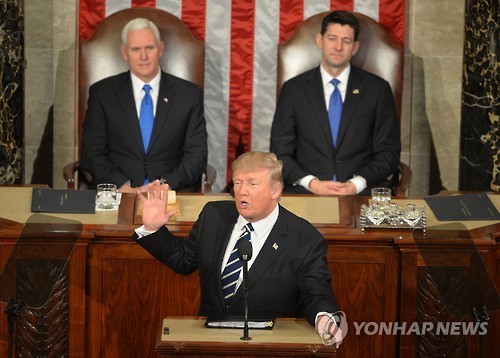 U.S. President Donald Trump delivers his first address to a joint session of Congress on Feb. 28, 2017. (AP-Yonhap)
"We strongly support NATO, an alliance forged through the bonds of two World Wars that dethroned fascism, and a Cold War that defeated communism. But our partners must meet their financial obligations," Trump said.
"We expect our partners, whether in NATO, in the Middle East or the Pacific, to take a direct and meaningful role in both strategic and military operations, and pay their fair share of the cost," he said without mentioning any country by name.
Trump, however, made no mention of North Korea in the hourlong address.
The rest of the speech was devoted largely to economic and domestic issues.
Having allies pay more for joint defense was one of Trump's top campaign promises. During the campaign, he portrayed alliances as a cumbersome burden sucking up American taxpayer dollars while warning he could abandon them unless allies pay more.
Since his election, Trump kept up the burden-sharing demand for NATO nations but made no mention of such a demand for Asian allies, such as South Korea, while only expressing his support for the alliance with Seoul and reiterating his "ironclad" commitment to defending the ally.
Experts have said that NATO and South Korea are different in many aspects, including the fact that dealing with North Korean threats takes a higher priority than burden sharing in the alliance with Korea, though that does not mean Trump won't push Seoul to pay more.
Tuesday's address was believed to be the first time that Trump has talked about the need for Pacific allies to shoulder more of the defense cost, even though he did not single out any specific country by name.
The lack of any mention of North Korea was also against expectations because Trump has made a series of remarks in recent weeks about the threats the communist nation poses, especially since the North's latest missile launch on Feb. 12.
In a media interview last week, Trump said he is "very angry" at the North's missile launch, and that it's too late to meet with North Korean leader Kim Jong-un. He called the situation "very dangerous" and said China can solve the problem "very easily if they want to."
Earlier this month, he called the North "a big, big problem," a "really, really important" subject, and said he will deal with it "very strongly." After summit talks with Japanese Prime Minister Shinzo Abe earlier this month, Trump said that defending against the North's nuclear and missile threat is "a very, very high priority" for him.
The only foreign threat Trump talked about in Tuesday's address was the militant group Islamic State. He vowed to "work with our allies, including our friends and allies in the Muslim world, to extinguish this vile enemy from our planet."