MIAMI, Sept 29, 2010 (AFP) - Tropical Storm Nicole dissipated Wednesday as it moved toward Florida after drenching Cuba, threatening severe flooding in the US state as well as the Cayman Islands, Jamaica and the Bahamas.
At 2100 GMT, the storm had "degenerated into an elongated area of low pressure," with sustained winds of 65 kilometers (40 miles) per hour, the Miami-based US National Hurricane Center said.
The center was about 285 kilometers (175 miles) northeast of Havana and it was moving northeast at 19 kilometers (12 miles) per hour, grazing past the southeast tip of Florida.
The governments of Cuba, Grand Cayman and the Bahamas had discontinued tropical storm warnings, but the threat of flooding persisted.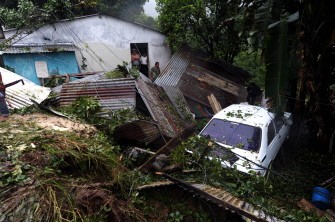 Neighbours of the colonia Grimaldi in the town of San Marcos, San Salvador, El Salvador, stare at the damages in their house after a mudslide caused by heavy rains in the country on September 29, 2010. Salvadorean goverment declared both an orange and red alert --depending on the region-- due to tropical storm Nicole. AFP
In Cuba, civil defense authorities mobilized in Cuba's central provinces of Villa Clara, Sancti Spiritus, Cienfuegos and Ciego de Avila, and western province of Matanzas and warned of the "impact that rains could have on mountain regions, low-lying areas and near rivers and streams."
Forecasters said the storm could produce rain of 12 to 25 centimeters (five to 10 inches) but isolated downpours of 50 centimeters (20 inches) could occur.
"These rains could cause life-threatening flash floods and mudslides," the hurricane center said.
In Miami Beach and other low-lying coastal areas prone to flash floods, authorities sent crews to keep drains clear and distributed sandbags to protect against high water.
The US National Oceanic and Atmospheric Administration (NOAA) has predicted an especially stormy 2010.
On average, there are 11 named storms, six of which become hurricanes, in the six-month season which ends on November 30.
There have already been seven hurricanes this year.