Tropical Storm Karl dumped heavy rains on the Yucatan Peninsula on Thursday as it moved toward the Gulf of Mexico, where it is expected to pick up steam and become a hurricane threatening Mexico's central coast by the weekend.
In the Atlantic, forecasters say Hurricane Igor has spun into a major Category 4 storm and is threatening to generate life-threatening rip currents along the U.S. East Coast over the weekend and to bring large swells to the Bahamas and Virgin Islands before that. Category 3 Hurricane Julia is not a threat to land.
In Mexico, the government issued a hurricane watch for its eastern Gulf Coast from La Cruz in Tamaulipas state south to Nautla in Veracruz. It is expected to reach the coast on Saturday.
Karl made landfall on Yucatan about 30 miles (50 kilometers) up the coast from the Quintana Roo state capital of Chetumal on Wednesday, with winds of about 65 mph (100 kph), according to the U.S. National Hurricane Center in Miami. It hit about midway between the cruise ship port of Majahual and the coastal town of Xcalak.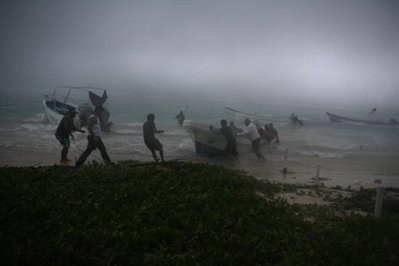 Fishermen try to secure their boats as tropical storm Karl arrives in the town of Mahahual, southern Mexico, Wednesday, Sept. 15, 2010
Violeta Pineda, who has operated thatch-roof bungalows known as the Hotel Kabah Na for 13 years, said waves were rolling about 25 yards (meters) onto the beach and eating away at a stretch of road that runs along the coast.
"There is a lot of wind," said Pineda, whose hotel is about 5 miles (8 kilometers) south of Majahual.
Electricity went out briefly around Majahual. But the town took an almost-direct hit from Category 5 Hurricane Dean in 2007 — the third most powerful Atlantic hurricane ever to hit land — and "this is nothing in comparison," said Pineda.
Karl's center passed close to the state capital, where there were reports of heavy rain and wind, downed trees and power outages.
The storm then moved inland over tiny rural hamlets and its winds declined to about 40 mph (65 kph).
It is expected to move back over water and into the Gulf of Mexico on Thursday.
Assistant state Public Safety Secretary Didier Vazquez said security forces had taken some people from coastal towns to shelters, while others preferred to ride out the storm in their homes.
The storm threw doubt over the area's celebration of Mexico's bicentennial anniversary of independence from Spain, although there was no immediate decision to cancel festivities.
But Mexico issued a tropical storm watch for the west coast of the Yucatan peninsula — where the storm is expected to re-enter the Gulf — from Ciudad del Carmen north to Celestun.
On the other side of the Atlantic, Julia briefly intensified into a powerful Category 4 storm early Wednesday before weakening to a Category 3 with sustained winds of near 115 mph (185 kph.) And Igor's top winds also lost steam to 135 mph (215 kph).