SEOUL, July 28, 2011 (AFP) - Tens of thousands of South Korean troops joined a massive clean-up Thursday after record-breaking rainfall killed at least 44 people, flooded hundreds of homes and turned main roads into muddy rivers.
Some 40,000 soldiers with heavy equipment have joined more than 4,000 police in recovery efforts, the defence ministry said.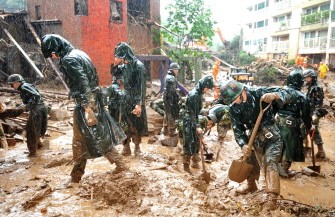 AFP - South Korean soldiers remove tons of mud after a flood caused by heavy rains hit the area around an apartment complex in Seoul on July 28, 2011
"Since this is such a big disaster... we will deploy as many as possible as long as it does not hamper normal military operations," a spokesman told AFP.
The capital Seoul, where some 10 million people live, was hit by 473.5 millimetres (nearly 19 inches) of rain on Tuesday, Wednesday and early Thursday.
Wednesday's deluge of 301.5 mm was the highest July daily figure since records began and turned main roads in Seoul into rivers of churning, muddy water dotted with the roofs of submerged cars. Drivers abandoned vehicles to run to safety.
Sixteen people were killed in southern Seoul after landslides from Mount Umyeon hit nearby leafy residential areas, the National Emergency Management Agency (NEMA) said.
Thirteen people including 10 student volunteers died in the Chuncheon area, 100 kilometres (60 miles) east of the capital, early Wednesday after mudslides from a nearby mountain hit an inn and several homes.
Landslides and a swollen river killed 15 people in Gyeonggi province, which surrounds the capital. Five people were still missing in Seoul and nearby regions, NEMA said.
About 1,370 homes and 645 hectares (1,593 acres) of farmland were inundated, forcing more than 4,900 people to flee their homes. More than 1,000 of them spent Wednesday night in schools and churches.
Most roads were reopened Thursday as the deluge turned to drizzle. But 32 roads and bridges in and around Seoul were still closed as the clean-up began.
Mechanical diggers clawed away at a mass of fallen branches and mud while soldiers and others hauled debris away, TV pictures showed.
The defence ministry said it was still searching for about 10 land mines that had been planted to protect an air defence artillery unit on Mount Umyeon, but which were dislodged by the landslide.
Local media focused on the 10 young students whose lives were cut short by the landslide in Chuncheon.
The students, from a science club at Inha University in the western city of Incheon, were engaged in volunteer work with local schoolchildren.
"We heard a big thundering sound and the mud suddenly broke the window and slammed into our room in a few seconds," one of the survivors at a hospital told MBC TV.
Local resident Kim Hyeong-Woo, who lives near the inn where the students were staying, escaped by seconds after feeling a tremor in his backyard.
"Right after we escaped, the landslide swept our home away," he told the Korea JoongAng Daily.
Amid the pandemonium, he heard students shouting out in pain and screaming for help. "Please help! Please!" he heard. "I can't find my arm!"
Kim jumped into the mud and rescued two of the students. Grieving students and staff at Inha University have erected a memorial altar at the campus for those who did not survive.