Chile rejoiced Sunday at news that 33 miners trapped deep below ground for more than two weeks were alive and apparently in good condition, but engineers warned that rescuing them could yet take months.
The miners were able to send up a note through a shaft drilled 700 meters (2,300 feet) into the earth to alert engineers and family members above ground that they were together and alive inside an emergency shelter.
"All 33 of us are well inside the shelter," said the note, written in bold red capital letters.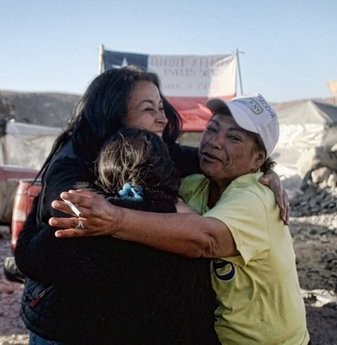 Relatives of the miners trapped in the San Esteban gold and copper mine, hug each other at the news that the 33 Chilean miners trapped deep below ground for 17 days are alive.
President Sebastian Pinera read the message aloud and waved the note in the air, as friends and relatives wept with joy outside the northern Chilean mine whose entrance collapsed on August 5, trapping the workers inside.
"This came out of the ground. It's a message from our miners telling us they are alive, that they are together," Pinera told reporters outside the San Jose gold and copper mine near the city of Copiapo, 800 kilometers (500 miles) north of Santiago.
His words were met by a roar of cheers, as friends and families wept and hugged each other in relief after days of fading hopes.
A remotely operated camera lowered down the bore hole later provided the first visual contact with the miners, who reportedly used the lights on their hardhats to illuminate each other.
"I could see them with my own eyes through the video camera. I saw eight or nine of them waving their arms, and others who remained still with their lamps lit, and they were apparently in good physical condition," said Pinera.
Hector Mella, an official with the public prosecutor's office, also saw the images via a camera lowered deep below ground and said the miners appeared to be in good condition.
"They appear to be well... better than would have been expected," he said.
As word spread that the miners were alive after 17 days below ground, drivers honked their horns in the capital Santiago and hundreds of people gathered in the streets to celebrate and wave national flags.
Until Sunday, there had been no sign that the miners had survived their ordeal.
But then came two notes in a plastic bag attached to a line that had been lowered through the narrow shaft drilled into emergency shelter.
Mining Minister Laurence Golborne said the first note they pulled out was a letter from Mario Gomez, one of the trapped miners, to his wife Liliana Ramirez.
"We celebrated without knowing anything more than that," Golborne said. "But then came that message that says the 33 are alive."
In his letter to his wife, Gomez, 63, said: "I haven't stopped thinking about the family for one minute. I love you all."
He said "a little water" was trickling down into the shelter and that the drilling machines could be heard clearly from above.
"I'm sure we'll get out of here alive. I hope to talk to you later," he added.
"I knew my husband was strong," his wife told reporters after reading his letter.
Despite the dramatic breakthrough, the chief engineer in charge of the rescue operation, Andres Sougarret, said it would take at least four months to drill a shaft large enough to bring out the trapped miners.
Rescue workers said the next step was to lower a microphone to the shelter where the miners are trapped, and later food, water and other equipment.
Rescue worker Pedro Ramirez told TVN television drilling the new shaft would begin on Monday, adding that the miners would be pulled out "one by one" from the bottom of the mine once it was completed.
"I thank the miners for their bravery, for their courage in holding out more than two weeks in the depths of the mountain," said Pinera.
"Now we must keep working. We have to put a tube through the shaft so we can send them water, food, lighting and communication" equipment.
"But the most important thing is already there: moral support. The miners know we're striving to rescue them. They know it's a matter of days when they'll be rescued," he added.
Sougarret said that extracting the trapped miners from their pocket deep underground required time and a more powerful digging machine.
"A shaft 66 centimeters (26 inches) in diameter (will take) at least 120 days" to complete, the engineer said.
Reaching the miners with the small-bore shaft through which their note was relayed took several hit-and-miss attempts, and rescuers had almost lost all hope of finding the men alive, Sougarret added.
During the past two weeks, some 500 people clambered to the mine on top of a mountain in Chile's Atacama desert to pray for the trapped men. Messages of hope were written with piles of stones around the entrance to the mine.
Friends and family celebrated the good news by cheering and waving a Chilean flag that had been found among the debris left by the earthquake and tsunami that devastated central Chile on February 27.
"They'll come out thin and dirty, but whole and strong, because the miners have shown they have courage and mettle, which is what has kept them together," Pinera said, choking with emotion.