COPIAPO, Chile, Aug 25, 2010 (AFP) - Trapped deep beneath the earth, their fate uncertain, the 33 men awaiting rescue at a caved-in Chilean mine have rallied around leaders, including their eldest colleague, 63-year-old Mario Gomez, now a symbol of their resilience.
Gomez became an instant hero here after penning the all-capitals, red ink note that gave Chile its first sign that the miners were still alive.
"All 33 of us are well inside the shelter," said the note, which was carried to the surface by a drill bit August 22, after two weeks of silence, and was greeted with screams of joy and tears of relief from desperate relatives.
Deep in the collapsed mine, where the men are thought to have taken refuge inside a living room-sized shelter, Gomez is believed to be acting as a mentor and leader to a group that ranges in age from 63 to just 19.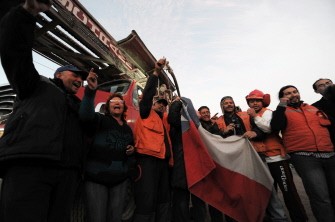 Relatives of the trapped miners pose with rescuers as they leave their work shift on August 24, 2010. AFP
Gino Erazo, a miner who worked with Gomez and knows him well, said morale inside the San Jose mine, which caved in August 2, would depend on his old colleague.
"He is like a father taking care of his children," he told AFP.
Claudio Campillay said his father-in-law Gomez "knows an enormous amount."
"They have great respect for his work," he said of the company that owns the mine. "Before he came to work here, they solicited him for months because they knew him."
Gomez's wife Liliana described her husband as a "workaholic" and a life-long miner, who began learning the trade at the age of 12 by his father's side.
"I know that he will be their pillar down there," she said.
Liliana added that her husband had sent her an uncharacteristically emotional letter alongside the note he dispatched to the surface announcing the well-being of the miners.
"It said that he loves me. I've never received words from him like that, even when we were engaged, he has never been a romantic," she said.
"He's a shy, taciturn person, not the type to express his feelings."
As a leader, Gomez was likely to be supported by Luis Urzua, the shift manager at the time of the cave-in, colleagues and experts said.
The pair will have to work to maintain morale and peace among a diverse group of men that spans generations.
Most of the men are between 40 and 63, but eight are in their twenties, and 19-year-old Jimmy Sandez has not even graduated from high school.
The men are Chileans, with the exception of Carlos Mamani, a 24-year-old Bolivian who had worked in the copper and gold mine for just five days before the accident.
Chile's Ministry of Health said Tuesday that two of miners have some medical expertise and would be sent thermometers and blood pressure machines to monitor the health of their colleagues.
"This is obviously an immense asset in this situation," Minister Jaime Manalich told reporters.
But the roles of calming influences like Gomez and Urzua will also be crucial, according to experts on confinement in extreme conditions.
Michael Siffre, a French scientist and caving expert, told AFP that leaders would emerge to help regulate the group's daily lives and mediate the type of disputes likely to emerge among men trapped for long periods together.
"There is clearly organization," Mining Minister Laurence Golborne said, describing how the first miner contacted below ground immediately passed the phone to Urzua, noting he was the shift supervisor.
"They passed the phone to the team leader straight away and he told us exactly what had happened with great firmness and mastery of the situation," Golborne said.
For Chileans outside the mine, waiting eagerly to hear news of their trapped compatriots, Gomez has also become something of a leader, providing a symbolic hero they can herald.
He has become a celebrity for many here, and some, including his wife Liliana, are even sporting t-shirts emblazoned with the words he wrote that let the world know he and his colleagues were still alive.