The collapse of marathon negotiations for a global trade pact left world powers reeling on Wednesday after ministers quit emotional talks without a deal over deadlock between India and the United States.
"It's extremely difficult to find words to express the disappointment," said EU Commissioner Mariann Fischer-Boel in an address as top delegates filed one by one before reporters to review the wreckage of nine days of talks.
"It is a failure with wider consequences than we have seen before," she said, her voice breaking.
Several delegates on Tuesday hoped for further moves to salvage the negotiating process in light of what had been accomplished in trade talks so far. But for the moment, momentum ground to a halt.
"There is no use beating around the bush, this meeting has collapsed, members have simply not been able to bridge their differences," the World Trade Organization's Director-General Pascal Lamy told journalists.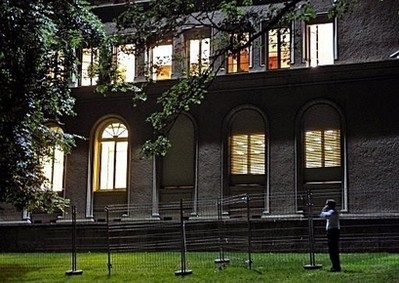 An official uses is mobile phone as he stands outside the World Trade Organisation (WTO) headquarters in Geneva.
Ministers had struggled for more than a week to reach consensus on subsidy levels and import tariffs for a new deal under the WTO's Doha Round, which has repeatedly foundered since its launch seven years ago.
"We will need to let the dust settle a bit, it's probably difficult to look too far into the future at this point," Lamy said. "WTO members will need to have a sober look at if and how they bring the pieces back together."
US Trade Representative Susan Schwab earlier said that hopes for a breakthrough had been dashed.
"The package that we were able to negotiate and agree on... is not going to carry the day," she told reporters as she left a meeting of key trading powers, referring to an earlier breakthrough on a deal proposed by Lamy.
Delegates said negotiations stumbled on proposals for so-called SSM measures to protect poor farmers that would have imposed a special tariff on certain agricultural goods in the event of an import surge or price fall.
The world's economic superpower, the United States, and India, one of the world's biggest emerging economies, were sharply divided over the SSM -- the special safeguard mechanism.
"I feel very disappointed that this had to be left unresolved in the last miles," India's Commerce Minister Kamal Nath told reporters. "It's unfortunate that in a developing round, the last miles we couldn't run" due to the SSM.
India and other developing countries wanted the mechanism to kick in at a lower import surge level than has been proposed in order to protect their millions of poor farmers from starvation.
Others wanted it to take effect at a higher rate so as not to hurt exporters.
Sources said after Tuesday's breakdown that the United States was stalling for time to avoid a rift over another sticking point, cotton subsidies.
"The US cannot afford to give way on cotton, so it does not even want to go into the issue," an Asian diplomat told AFP.
"It knows that India would not give ground on SSMs, in which case India would be blamed in case of any collapse."
European Union Trade Commissioner Peter Mandelson said it was "heartbreaking" that efforts collapsed due to one single element.
"Of all the failures they could have tripped up on... (the SSM) trade restraint measure and a small gap in numbers managing to provoke this failure is... absolutely heartbreaking," he told reporters after talks broke down.
Mandelson said the collapse was a "collective failure."
"We worked for success, we had failure pushed upon us," he told a news conference later. "This is a significant setback for the international trading system."
Nath had dug in his heels over the proposed tariff thresholds, claiming the backing of around 100 developing nations.
With both sides refusing to give way, acrimony had peaked on Monday with the United States publicly accusing China and India of holding up progress.
"It's a truly sad day for the developing countries that had so much to gain from the success of this round," said Fischer-Boel, who holds the agriculture EU's portfolio at the European Commission.
Brazilian Foreign Minister Celso Amorim, a leading negotiator at the talks, said he was "very disappointed that we were not able to close the round," but insisted that game was not over yet.
"We have a good package, a package that would be positive for world trade... but especially positive for LDCs (a group of least-developed countries) and other poor countries in Africa."
Japan on Wednesday voiced regret at the collapse of talks while pressing for developing nations to be "responsible" in the hard-fought negotiations.
"Despite more than a week of WTO ministerial talks and efforts by the ministers, they could not reach an agreement on the modalities. That is extremely regrettable," Prime Minister Yasuo Fukuda said in a statement.
But Japan was openly critical of proposals during the talks to cut tariffs on certain products considered sensitive, such as rice. Japan zealously protects its farmers from foreign competition.
Chief Cabinet Secretary Nobutaka Machimura said that the voices of developing nations have been growing in the deadlocked Doha round of WTO negotiations, which opened in the Qatari capital in 2001.
"Compared with seven years ago when the Doha Round started, the economic weight of China and India has been increasing. At the same time, they need to take more responsibility," Machimura told reporters.
"I wonder if they were thinking about the world economy as a whole while pursuing their own national interests" during the negotiations, he said.