Crisis-hit Toyota said Monday that global sales rose 13 percent year-on-year in February despite the recent mass safety recalls of more than eight million vehicles.
The Toyota group, which includes brands Daihatsu and Hino trucks, sold 613,845 vehicles worldwide last month, up from 543,435 a year earlier, a spokesman said.
The group's global production in the same period jumped 69.2 percent to 734,631 units, of which 655,180 were for the Toyota brand alone.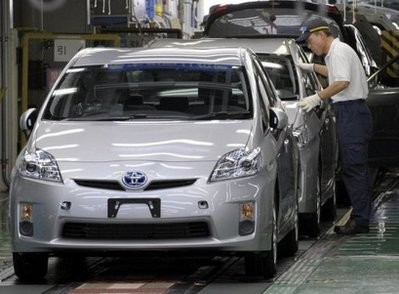 File photo shows a factory worker checking an assembled Prius hybrid vehicle in its final stage of the assembly line at Toyota Motors' Tsutsumi factory in Toyota.
Analysts said the figures were unsurprising given the auto industry's troubles a year earlier as the world economic downturn eroded demand.
"The robust figures were largely due to a rebound from its sizeable slump a year earlier. There was no surprise. The figures were within expectations," said Mamoru Kato, auto analyst at Tokai Tokyo Research Centre.
One of Japan's biggest companies, Toyota has been battered by both the global economic downturn and by its massive safety woes over faulty accelerator and brake systems.
In recent months, the automaker has been forced to recall more than eight million vehicles worldwide mostly due to problems with sudden acceleration, which have been blamed for 58 deaths in the United States.