BANGKOK, July 3, 2011 (AFP) - Tourists in Thailand have been warned to exercise caution and avoid political demonstrations as the nation goes to the polls Sunday for the first time since last year's deadly street protests.
More than 170,000 police were deployed at polling booths across the country for the tense vote, which pits Prime Minister Abhisit Vejjajiva of the ruling Democrat Party against the opposition Puea Thai Party's Yingluck Shinawatra.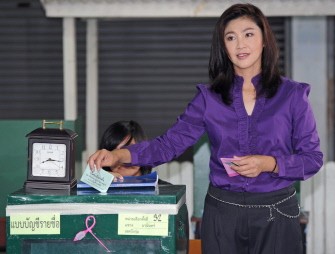 AFP - Yingluck Shinawatra, opposition Puea Thai party candidate and sister of fugitive Thai ex-prime minister Thaksin Shinawatra, places a ballot in ballot box during voting at polling station in Bangkok on July 3, 2011.
"There is a possibility of further civil unrest and violence in the period surrounding the election and formation of a new government," the Australian embassy said on its website.
"You should avoid protests and political rallies, and any security deployments associated with such events."
The British embassy also urged its citizens to be on alert. "There remains a risk that political developments may lead to violence," it said in a message posted online on Friday.
"You should avoid demonstrations and in the event of violence, remain indoors."
The comments were echoed by several other countries, including Canada, Ireland, Japan and the Netherlands.
"Please stay away from rallies and demonstrations to ensure your safety," the Japanese embassy said in an email to its citizens.
Thailand is one of the most popular travel destinations in the region but in recent years its reputation as the "land of the smiles" has been marred by protracted and often bloody political unrest.
The poll is the first major electoral test for the government since mass "Red Shirt" opposition protests in Bangkok in April and May last year scared away tourists and sparked an army crackdown that left more than 90 people dead.