BEIJING, July 11, 2011 (AFP) - America's top military officer held talks with his Chinese counterpart Monday amid rising tensions in the South China Sea that Washington fears could spiral dangerously out of control.
Admiral Mike Mullen is the first chairman of the US Joint Chiefs of Staff to visit China since 2007 and his trip comes as military ties between the two powers are tested by Beijing's growing assertiveness in the South China Sea.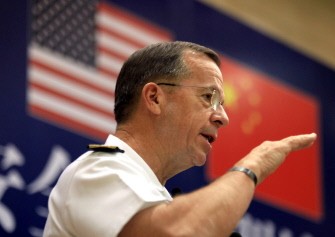 AFP - Admiral Mike Mullen gestures as he delivers his speech during the "Cooperative Security and Regional Stability in Asia" meeting at Renmin University in Beijing on July 10, 2011.
On Monday, he met his Chinese counterpart General Chen Bingde ahead of talks later in the day with the country's vice president Xi Jinping, who is widely expected to take over as president next year.
Speaking after the talks, Chen said the pair had discussed the South China Sea, where Beijing's recent assertiveness over territorial claims has raised tensions with neighbouring countries.
"It's fair to say that we found a lot of common ground, while we do have different opinions on certain issues," the state Xinhua news agency quoted Chen as saying.
The talks also covered "the attitude of some US politicians towards China, cyber security and China's military development", he said, urging both sides to push forward the development of bilateral military ties.
During the four-day trip, which began Sunday, Mullen is also expected to address rising tensions with North Korea and measures to boost security cooperation between China and the United States.
On Sunday, he urged the Chinese government to use its relationship with Pyongyang to ensure regional stability, while warning North Korea against further dangerous provocations.
With ties sometimes fraught between the two militaries, Mullen stressed Sunday that the US was in no way seeking to contain China's dramatic rise, but said it would remain active in the Asia Pacific region for a long time.
"The United States is deepening its commitment to this region and the alliances and partnerships that define our presence there," Mullen told university students.
"We are, and will remain, a Pacific power, just as China is a Pacific power."
Mullen said Washington was concerned about freedom of navigation but expressed hope that myriad disputes in the South China Sea involving several nations and territories would be "resolved peacefully".
China, the Philippines, Vietnam, Brunei, Malaysia and Taiwan have overlapping claims to parts of the South China Sea, which is believed to have vast oil and gas deposits, while its shipping lanes are vital for global trade.
Vietnam and the Philippines have in recent months accused China of taking increasingly aggressive actions in staking its claims in the disputed waters and its archipelagos.
In response, China has insisted it wants to resolve territorial disputes peacefully but remains firm in its claims to most of the South China Sea, even waters within the Philippines' economic exclusion zone.
Mullen will visit military bases in the eastern provinces of Shandong and Jiangsu on Tuesday, the US embassy in Beijing told AFP.