LONDON, July 18, 2011 (AFP) - Britain's phone-hacking scandal claimed the scalps of two top policemen as Prime Minister David Cameron on Monday cut short a trip to Africa to deal with a crisis that threatens his own position.
In another twist to the snowballing saga, a whistleblower at the heart of the scandal and former News of the World reporter, Sean Hoare, was found dead at his home on Monday but there appeared to be no suspicious circumstances, police said.
Assistant police commissioner John Yates, who refused to reopen an investigation into the now-defunct News of the World tabloid in 2009, resigned Monday, Scotland Yard said, a day after the departure of his boss Paul Stephenson, chief of London's Metropolitan Police.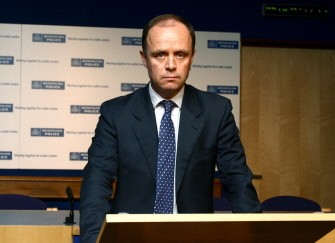 AFP - Scotland Yard Assistant Commissioner John Yates announces that he is to step down on July 18, 2011 in London.
Yates had expressed regret last week over his earlier decision that the inquiry into the Rupert Murdoch-owned paper did not need to be revived, but pinned the blame on Murdoch's empire for failing to cooperate.
Yates was one of the Met's most senior officers and had responsibility for special operations, but came under fire after detectives reopened the investigation in 2011 and found thousands of alleged hacking victims.
He quit when he found out he was about to be suspended.
As the scandal kept scything through the heart of the British establishment, Cameron's aides announced that he would cut short a visit to South Africa and Nigeria, flying back on Tuesday evening instead of early Wednesday.
They said the Conservative leader wanted to prepare a statement that he will deliver during an emergency session of parliament on Wednesday, having delayed the summer break for lawmakers for a day.
Cameron has also been forced to defend his own position after Stephenson, Britain's most senior police officer, took a swipe at the prime minister's decision to hire former News of the World editor Andy Coulson as his media chief.
Stephenson quit on Sunday over the force's hiring of Neil Wallis -- who was deputy to Coulson at the tabloid -- and over a spa break he accepted from a firm where Wallis was a consultant.
"I don't believe the two situations are the same in any way, shape or form," Cameron told a news conference during his South African visit when asked about a comparison with the troubles at Scotland Yard.
Coulson resigned from Downing Street in January and was arrested on July 8. Wallis was arrested on July 14.
Scotland Yard also revealed on Monday that it had used former senior News of the World reporter Alex Marunchak as a Ukrainian language interpreter between 1980 and 2000.
Marunchak was accused by BBC's Panorama programme of hiring a snooper who illegally intercepted email messages from a target's computer.
Hoare, an ex-tabloid show business reporter, alleged in interviews with The New York Times newspaper and the BBC last year that Coulson knew about voicemail hacking.
He was found dead early Monday at his home in Watford, north of London, Hertfordshire Police said in a statement.
"The death is currently being treated as unexplained, but not thought to be suspicious. Police investigations into this incident are ongoing," it said.
The Guardian newspaper said Hoare had long-term drink and drug problems.
The crisis took its toll on News Corp.'s financial health as Standard & Poor's warned Monday its credit rating could be cut.
S&P placed News Corp.'s BBB+ rating on a negative watch citing "increased business and reputation risks" from investigations into the scandal.
Opposition Labour Party leader Ed Miliband piled pressure on Cameron by calling on him to apologise for hiring Coulson.
Asked whether Cameron should consider his position, Miliband said there was a "sharp contrast between his actions and the honourable actions of Sir Paul Stephenson who resigned over the hiring of Mr Coulson's deputy."
Rebekah Brooks, former chief executive of Murdoch's British newspaper unit, News International, and editor of News of the World when it allegedly hacked a murdered girl's phone, was arrested on Sunday on suspicion of phone hacking and bribing police.
Her lawyer Stephen Parkinson said she was "not guilty of any criminal offence".
He said she still planned to testify alongside the Australian-born Murdoch and his son James, who is chairman of News International, before a committee of British lawmakers on Tuesday.
An original police investigation into the tabloid in 2006 led to the jailing of its former royal editor and a private investigator, but it later emerged that thousands more celebrities, royals and even crime victims also had their voicemails targeted by alleged "industrial-scale" hacking.
At 1830 GMT News Corp shares traded in New York were down 4.4 percent to $14.94. Shares have lost 17.2 percent in the two weeks since the scandal began to erupt.