MELBOURNE, Aug 12, 2011 (AFP) - Budget carrier Tiger Airways resumed flights in Australia on Friday, six weeks after regulators slapped a suspension on the airline's domestic services over safety concerns.
The first plane left Melbourne bound for Sydney at 11:50 am (0150 GMT), some 10 minutes behind schedule with 150 passengers, including Tiger Airways Australia chief executive Tony Davis, on board.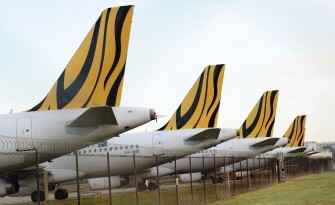 AFP - Tiger Airways planes sit on the tarmac as the budget carrier resumed flights in Australia
A subsidiary of Singapore's Tiger Airways, the airline said it would begin services on its most popular and profitable sectors after the Civil Aviation Safety Authority (CASA) on Wednesday lifted its ban but imposed strict conditions.
These include greater pilot training, while limiting the airline to offering reduced services until at least the end of the month.
"The airline would like to reassure all Australians that safety underpins the operation at all times," airline spokeswoman Vanessa Regan said.
"Tiger's focus moving forward is on improving reliability as well as providing Australians with safe and affordable air travel.
"Tiger Airways is committed to a safe and viable long-term future in Australia."
CASA announced the unprecedented grounding on July 2 after Tiger flights twice approached Melbourne airports too low, and following warnings about pilot proficiency, training and checking, and fatigue management.
The regulator Wednesday said the airline could resume flights whenever it wished, adding that it had now shown it could meet all safety requirements.
Tiger has said it remains committed to the Australian market, despite the ban costing it some Sg$2 million (US$1.6 million) per week while flights were grounded.