BANGKOK, Sept 9, 2010 (AFP) - Three unexploded bombs were found in Bangkok and surrounding suburbs in a matter of hours, one of them in front of a school and one in a shopping mall, police said Thursday.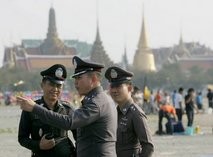 AFP file photo of Thai policemen in Bangkok
The first device was discovered under a footbridge outside a school in central Bangkok on Wednesday morning, Major General Prawut Thavornsiri, the national police spokesman, told AFP.
On Wednesday night, two more, each weighing around five kilograms (11 pounds) were found at a shopping mall and in the public health ministry car park in nearby Nonthaburi province, he added. Both were later defused.
The finds follow a series of grenade blasts in recent weeks across the Thai capital, which remains under emergency rule following deadly street clashes in April and May during anti-government protests.
On Friday Thailand put over 460 locations across Bangkok on high alert, sending thousands of police, soldiers and city officials onto the streets in a bid to increase the security presence around the clock.
Royal palaces, key government buildings, power plants and public transport are receiving special protection from the Centre for Resolution of Emergency Situation (CRES), the body set up to monitor security since unrest in April.
Suthep Thaugsuban, deputy prime minister in charge of national security, said he had instructed officials to tighten security again after the three devices were found on Wednesday.
"I have not yet got a detailed report. Officials are investigating but it's quite difficult," he added.
He said a bomb hoax that emerged on the same day on a Thai Airways flight from Bangkok to Los Angeles was not related to incidents in the city.