SEOUL, May 25, 2009 (AFP) - Tens of thousands including North Korea's leader expressed grief Monday at the death of former South Korean president Roh Moo-Hyun, who leapt from a cliff after being questioned in a graft scandal.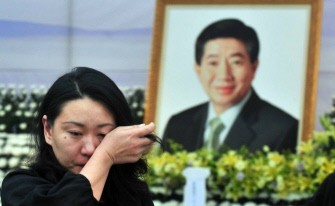 A supporter of former South Korean president Roh Moo-Hyun wipes her eyes as she mourns at his memorial altar in the village of Bongha in Gimhael on May 25, 2009 (AFP photo)
The government ordered a week of mourning and a public funeral for the liberal leader who held office from 2003-8, as thousands of riot police went on guard to quell any backlash against the current conservative administration.
On the day the North announced it had staged another nuclear test, leader Kim Jong-Il sent a message of condolence to Roh's family, according to North Korea's official media.
Roh doggedly pursued reconciliation with the North despite its 2006 nuclear and missile tests. He held a summit with Kim in Pyongyang in October 2007, only the second in the history of the two countries.
Tens of thousands of tearful mourners, many clutching white chrysanthemums in a traditional symbol of grief, flocked to Roh's retirement village of Bongha near the southeast coast.
The funeral will be held there on Friday.
Roh jumped to his death early Saturday from a mountain near his home after going hiking with a bodyguard. He left a poignant suicide note for his family on his home computer.
"I caused so much trouble to many people," it read, according to the text released by police. "Please don't have sorrowful feelings. Aren't life and death all part of nature?"
World leaders, including US President Barack Obama, Japanese Prime Minister Taro Aso, British Prime Minister Gordon Brown and UN Secretary General Ban Ki-moon, offered condolences.
Prosecutors on April 30 questioned Roh, 62, for 10 hours about some six million dollars which family members received from a wealthy shoe manufacturer.
The investigation tarnished his legacy as an anti-corruption fighter, even though he did not admit personal wrongdoing.
On May 14, in an unrelated graft case, Roh's elder brother was jailed for four years for taking more than two million dollars in bribes. Roh Gun-Pyeong was briefly paroled from prison so he could pay respects at Bongha.
Some mourners claimed the prosecutors' probe and associated media leaks were politically motivated. The government says the inquiry, which has also targeted a friend of the current president, is independent.
Authorities set up 31 altars across the country, including seven in Seoul, where mourners can pay tribute. Political parties, religious groups and civic organisations separately established 155 altars nationwide.
Police said more than 5,000 riot police were deployed in Seoul alone.