Thousands of runners braved temperatures hovering just above zero degrees centigrade on Thursday to take part in the Gaza Strip's second-ever marathon.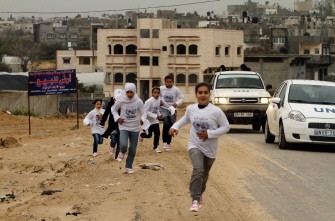 Participants compete in the UN-sponsored Gaza marathon in Gaza City on March 1, 2012. Thousands of runners braved temperatures hovering just above zero degrees centigrade to take part in the impoverished Palestinian territory's second-ever marathon.
Despite overcast skies, light drizzle and the coldest March temperatures residents could recall in years, officials said there was a good turnout for the race, which spans the length of the impoverished Palestinian territory.
The UN agency for Palestinian refugees, UNRWA, which organises the event, said around 2,700 people were participating in the race, most of them local children running one kilometre sections of the 42-kilometre (26-mile) event.
At 7:00 am (0500 GMT), some 200 people lined up at the race's starting point in the northern Gaza town of Beit Hanun, not far from the territory's border with Israel.
UNRWA said around 200 people had signed up to try to complete the full race, which concludes in the southern Gaza city of Rafah, around 80 of them foreigners.
Those running shorter lengths are joining the race at intervals along the way, with participants running half marathons, as well as 10-kilometre and two-kilometre portions.
The organisation said participants include 200 Gazan athletes, among them Palestinian Olympians Nader al-Masri, who won last year's marathon and is competing in the full race, and Bahaa al-Farra, covering the 10-kilometre stretch.
UNRWA hopes the race will raise funds for the Summer Games youth sports camps it runs in Gaza each year, and Spanish participant Martin Santiago said he was proud to be helping children in the impoverished Palestinian territory.
He said he wanted to send a message to the international community "that there is a need to help the children of Gaza."
Sajjad Sharif, 32, said he was glad to be taking part in the race despite the tough weather conditions, which saw strong winds whipping sand from the beach towards the runners.
"It's good to be participating and we're hopeful that the marathon will succeed in raising funds so that the children of Gaza can take part in the Summer Games," he told AFP.
UNRWA spokesman Chris Gunness said he was thrilled that participants were taking part despite the freezing conditions, calling it a chance to highlight the ongoing "humanitarian crisis of choice" in Gaza.
UNRWA has harshly criticised Israel's blockade on Gaza, which the Jewish state says is necessary to prevent the Strip's Hamas rulers from obtaining weapons and funds.
The UN agency says the blockade unfairly affects all of Gaza's residents.
"We all know that the Strip is capable of the highest levels of human development if given the chance," Gunness said. "We need to lift the blockade for imports and exports and let Gaza show its potential. It will not disappoint."