BANGKOK, July 3, 2011 (AFP) - Fugitive Thai ex-premier Thaksin Shinawatra called his youngest sister Sunday to congratulate her on what exit polls showed was a stunning election win by her opposition party.
"Thaksin has called to congratulate and said there was a tough job ahead," a smiling Yingluck Shinawatra told jubilant supports at the Puea Thai Party's headquarters in the Thai capital.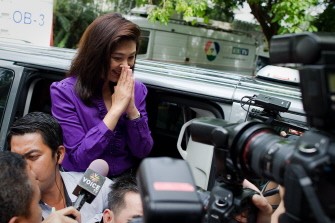 Yingluck Shinawatra gives a traditional greeting to members of the media as she arrives at her party headquarters in Bangkok on July 3, 2011.
Thaksin lives abroad, mostly in Dubai, to avoid a jail term for corruption but his 44-year-old sister is seen as his political proxy.
"Thank you to the people who came out to vote," Yingluck said, adding that even though the exit polls were encouraging, she wanted to wait for the official results before declaring victory.
Thaksin's Puea Thai Party is set to win 313 seats out of 500, against 152 for Prime Minister Abhisit Vejjajiva's Democrats, according to a projection by Suan Dusit University. Other exit polls painted a similar picture.
The election was the first major electoral test for the elite-backed government since mass protests by Thaksin's "Red Shirt" supporters last year paralysed Bangkok and unleashed the worst political violence in decades.