BANGKOK, July 3, 2011 (AFP) - Opposition allies of Thailand's ex-leader Thaksin Shinawatra scored a landslide election win Sunday, exit polls showed, in a stunning comeback after years of turmoil sparked by his ouster in a coup.
The vote was the first major electoral test for the elite-backed government since mass protests by Thaksin's "Red Shirt" supporters last year paralysed Bangkok and unleashed the worst political violence in decades.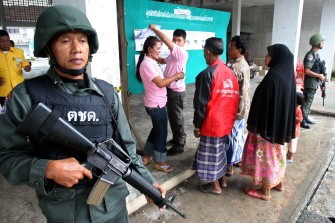 AFP - Thai soldiers stand guard outside a polling station during the country's general election in Thailand's restive southern province of Yala on July 3, 2011.
Thaksin's Puea Thai Party was headed to win a decisive majority with 313 seats out of 500, against 152 for Prime Minister Abhisit Vejjajiva's Democrats, according to Suan Dusit University. Other exit polls painted a similar picture.
Thaksin's sister Yingluck Shinawatra, who he tapped to become the opposition's candidate for premier, is now set to become Thailand's first female prime minister.
"Thaksin has called to congratulate me and said there was a tough job ahead," a smiling Yingluck told jubilant supports at the Puea Thai Party's headquarters in the Thai capital.
"Thank you to the people who came out to vote,"said the 44-year-old telegenic businesswoman, a political novice who Thaksin has described as his "clone".
Amid fears that an opposition victory could trigger protests or another coup, Thaksin called on all sides to respect the outcome of the ballot in which official results are expected to be announced within hours.
"All parties must respect the people's decision otherwise our country cannot achieve peace," the former billionaire telecoms tycoon told Thai broadcaster PBS.
Toppled by the military in 2006 and now living in self-imposed exile in Dubai to avoid a jail term for corruption, Thaksin nevertheless dominated the election.
The former billionaire telecoms tycoon remains a hugely divisive figure.
He is adored by rural voters for his populist policies while in power such as cheap healthcare and microcredit schemes, but hated by the ruling elite who see him as corrupt, authoritarian and a threat to the revered monarchy.
More than 170,000 police were deployed to secure the vote, but it appeared to proceed peacefully. Long queues were seen at polling stations in what was one of the country's most hotly contested election in decades.
Political observers had said that a close result could fuel a fresh round of street protests and possibly another coup, but a clear win by the opposition will make it harder for the generals to justify seizing power.
The Puea Thai party has proposed an amnesty for convicted politicians -- a move apparently aimed at bringing Thaksin home, where he faces terrorism charges in connection with the April-May 2010 protests.
More than 90 people, mostly civilians, died in a series of street clashes between mostly unarmed red-clad protesters loyal to Thaksin and government soldiers firing live ammunition in the streets of the capital.
Many doubt the Bangkok-based elite in government, military and palace circles would allow the one-time owner of Manchester City football club to come back as a free man.
If Thaksin tries to return the army may "strike back", said Thai academic Pavin Chachavalpongpun, of the Institute of Southeast Asian Studies in Singapore.
"If he sets foot in Thailand the military could accuse him of coming back and trying to create disunity among Thais."
The military is a constant wildcard in a nation that has seen almost as many coups as elections. The judiciary also has a record of intervening in politics.
Thaksin or his allies have previously won the most seats in the past four elections, but the courts reversed the results of the last two polls.
In contrast Abhisit's Democrat Party -- the country's oldest, with traditional support in Bangkok and the south -- has not won a general election in nearly two decades.
British-born Abhisit took office in a 2008 parliamentary vote after a court ruling threw out the previous administration, and he was accused by his foes of being an unelected puppet of the military and the establishment.
The vote is seen as a major test of the kingdom's ability to emerge from its long political crisis, which has seen years of street protests by Thaksin's "Red Shirt" supporters and the rival "Yellow Shirt" royalists.
Revered King Bhumibol Adulyadej, 83, is seen as a unifying figure in a country often riven by violence, but he has been in hospital since September 2009.
Political parties took to online social networking like never before to reach voters, but police warned anybody caught campaigning on sites such as Facebook or Twitter on election day risked six months in prison.