BANGKOK, July 5, 2011 (AFP) - Thailand is set to get its first female premier in Yingluck Shinawatra, but observers say her victory as her famous brother's political proxy cannot be seen as a milestone for women's rights.
Virtually unknown just two months ago, Yingluck led the Puea Thai party to a stunning victory Sunday, but she largely owes her meteoric rise to her fugitive brother, ex-premier Thaksin Shinawatra, who controls the party from abroad.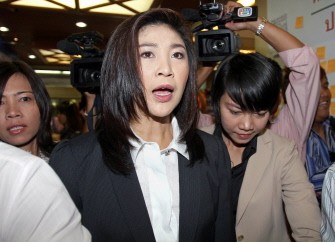 AFP - Yingluck Shinawatra answers a question from the press while walking at Puea Thai party headquarters in Bangkok on July 5, 2011.

As a result, Thai feminists are reluctant to claim Yingluck's poll win as a triumph for equality, saying her victory is less about breaking glass ceilings and more about riding on the coat-tails of a man.
"How can we be proud? The whole world knows it's about Thaksin," said Sutada Mekrungruengkul, director of the Gender and Development Research Institute (GDRI) of Thailand.
"Compare that to Aung San Suu Kyi who has struggled for 20 years and is still not the prime minister of Myanmar," she told AFP, referring to the neighbouring country's democracy icon who is marginalised by the military.
Promising to revive the populist policies of her controversial sibling, who was ousted in a coup in 2006, Yingluck appeared to stick closely to Thaksin's directions, and he even described her as his "clone".
"There is no doubt that Yingluck Shinawatra won this election because she is Thaksin's sister," said Andrew Walker, an expert on Thai politics at the Australian National University Canberra.
Yet the 44-year-old businesswoman and mother-of-one defied sceptics who thought her novelty value would soon wear off.
Warm, charismatic and composed, Yingluck ran a slick, energetic campaign that won over large swathes of the public.
Before storming into politics, she was a well-respected businesswoman in a country widely praised for having a large number of female executives.
Until recently she was the president of Thai real estate firm SC Asset Corp and she has also held various other positions in Thaksin's business empire.
Research by business consultant Grant Thornton revealed earlier this year that Thailand boasts the greatest percentage of women in senior management of any country -- 45 percent compared with a global average of 20 percent.
But female politicians have lagged behind.
In the last election in 2007, just 13 percent of seats in Thailand's lower house went to women, falling behind a 19.5 percent world average and an Asian average of 18.3 percent, according to the global Inter-Parliamentary Union.
"Thailand is a society in which women often play a very active role in the social and economic life of their communities, but political leadership, locally and nationally, has been dominated by men," said Walker.
"Many women, young and old, will be delighted and inspired by Yingluck's dramatic rise to the top."
While blood ties were key to her candidacy, Yingluck is actually following a tried-and-tested formula of combining the political power of her family name with her feminine attributes, said Thailand analyst and author Chris Baker.
Indira Gandhi of India, Benazir Bhutto of Pakistan and Corazon Aquino of the Philippines are just a few examples of the women who have followed in the footsteps of male relatives.
"It's a very, very powerful formula in Asia. We've seen it time and time again," said Baker.
The blueprint may have worked, but activists are already criticising Yingluck for shying away from women's issues in the run-up to the ballot, and many doubt whether gender equality will be high on her agenda.
She provided little reassurance to feminists when, announcing her candidacy in May, she said: "I will utilise my femininity to work fully for our country."
Yingluck "never said a single word about women's rights promotion during her campaign," said Sutada of GDRI.
"We have a lot of women's issues in Thailand, particularly violence against women and discrimination against women," she said, adding that the vast majority of Thailand's 32 million women lived in poor or rural areas.
"She might have the anatomy of a woman, but she thinks like a man and I don't think she will do anything extraordinary for women," said Arpaporn Sumrit, a lecturer at the Women's Studies Centre at Chiang Mai University.
Sutada hoped Yingluck would be strong enough "to step out of her brother's shadow and be herself" -- a sentiment many curious Thai women will share as the political novice prepares to take on the top job.
"I'm kind of a feminist and I want to see what it's like to have a woman as our prime minister," said Nattamon Tassanakulpan, a 21-year-old who voted for Yingluck.