BANGKOK, July 8, 2011 (AFP) - Thailand's outgoing ruling party on Friday launched legal action seeking to ban the allies of former premier Thaksin Shinawatra from politics following their election victory.
The move is sure to anger Thaksin's "Red Shirt" supporters, who were behind two months of mass protests in Bangkok last year that turned deadly.
But the legal process is expected to take several months at least to be completed and is not expected to prevent Thaksin's youngest sister Yingluck Shinawatra from becoming Thailand's first female prime minister.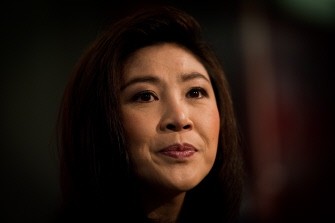 AFP - Yingluck Shinawatra speaks at a press conference at the Puea Thai Party headquarters in Bangkok on July 8, 2011.
The Democrat Party asked the Election Commission to pursue the abolition of the rival Puea Thai Party, the winner of Sunday's election, on the grounds that banned politicians were involved in its campaign.
"We asked EC to recommend to the Constitutional Court to dissolve Puea Thai," Wiratana Kalayasiri, head of the Democrats' legal team, told AFP.
"The accusation is that Puea Thai allowed people subject to five-year political bans to become involved in policy planning, phone-ins and video addresses and also the selection of candidates," he said.
Two Thaksin parties have been dissolved in the past and their top executives, including the controversial former leader, were banned from politics.
Yingluck, however, is not a Puea Thai executive so she should avoid a ban herself even if the party is dissolved.
The Democrats came to power in 2008 after the forerunner to Puea Thai was dissolved for electoral fraud.
The party of outgoing Prime Minister Abhisit Vejjajiva itself narrowly escaped a ban in late 2010 over allegations of misuse of state funds and an illegal donation.