A large number of police and military forces were deployed to ensure security in southern provinces of Thailand with schools re-opening on November 1, reported the country's media, reported by Vietnamnews from Bangkok.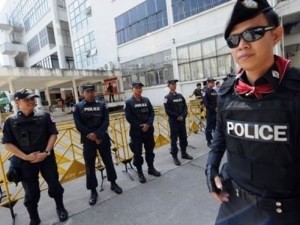 Thai police (Source: Internet)
In Yala province, security was tightened at 111 schools that re-opened for the second semester, while security checkpoints were set up along routes to schools.
Meanwhile in neighbouring Songkhla province, more than 200 volunteer defense corps were deployed to guard schools.
The increased security measures come after a spate of attacks on southern schools.
On October 28, a teacher was shot to kill as she arrived at school in Pattani province.
Previously, on October 24, one person was killed and at least 16 others including five children were wounded in a bomb attack on a market in Pattani.
On September 6, a bombimg outside a school in Narathiwat province killed two people.
Southern Thailand, which borders Malaysia, includes Yala, Pattanni, Narathiwat and Songkhla. The Muslim-dominated region witnessed a series of attacks by Islamic insurgent groups.
Statistics show that 200 schools were the target of armed attacks during the last 12 years, which claimed over 6,500 lives.-