Thailand said Tuesday that its border dispute with Cambodia should be dealt with through bilateral negotiations, rather than being "internationalised" at an upcoming regional summit.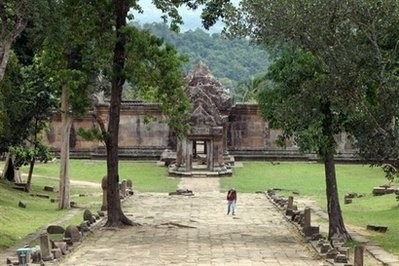 The entrance to Preah Vihear
Cambodia on Monday proposed neighbouring Thailand put the dispute -- which has sparked deadly skirmishes between troops -- on the agenda when it hosts this month's summit of the Association of Southeast Asian Nations (ASEAN).
However, a spokesman for the Thai foreign affairs ministry said Cambodia's proposal was based on an inaccurate report in the Thai press.
Thai foreign minister Kasit Piromya was reported to have said last week he would seek approval at the ASEAN meeting to establish a neutral body that would help settle the Thai-Cambodia dispute.
But this "stems from a misquote and something that was taken out of context" from a talk he gave earlier this month on the Thai-Cambodia issue, Thani Thongphakdi of the ministry said.
"Thailand will continue to seek a peaceful resolution of the problem through bilateral negotiations" under the framework of the Thai-Cambodian joint boundary commission, he told AFP.
"As such, we believe this issue should not be internationalised nor raised within the ASEAN framework."
The dispute focuses on an area of land around the 11th century Preah Vihear temple, where clashes have killed seven soldiers since nationalist tensions between the neighbours flared last year.
Cambodia and Thailand have been at loggerheads over the land around Preah Vihear for decades, but tensions spilled over into violence in July last year when the temple was granted UNESCO World Heritage status.
The World Court ruled in 1962 that it belonged to Cambodia.
Soldiers from Cambodia and Thailand continue to patrol the area, with the last gun battle near the temple area in April leaving three people dead.
The border between the two countries has never been fully demarcated, partly because it is littered with landmines left over from decades of war in Cambodia.