Thailand mobilised tens of thousands more security personnel Friday to restore order in Bangkok, where leaders of mass anti-government protests faced arrest for defying a state of emergency.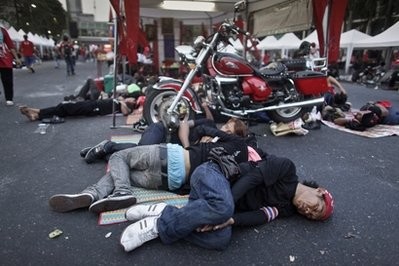 Anti-government demonstrators nap on the streets in the commercial district of Bangkok, Thailand, early Friday, April 9, 2010.
A Thai court approved arrest warrants for another 17 leaders of the "Red Shirt" demonstrators, who have occupied the capital's commercial district for almost a week, paralysing traffic and causing major stores to shut.
Defying a ban on rallies, protesters travelled on motorcycles and in cars towards the headquarters of broadcaster Thaicom to try to put the Red's television channel back on air after the government pulled the plug.
The army said it had called up 33,000 extra police and troops in and around the capital, where supporters of fugitive ex-premier Thaksin Shinawatra have been staging rolling rallies for almost a month.
"It's crucial for the military and police to bring the situation under control," army spokesman Sunsern Kaewkumnerd told a news conference. "Police and soldiers will decisively enforce the law."
There are now more than 80,000 security personnel in Bangkok -- more than the number of protesters, whose number peaked at about 60,000 on Thursday night at two locations, according to police estimates.
The authorities have so far avoided using force to break up the rallies, highlighting Thailand's deep rift pitting Bangkok's ruling elite against the mainly poor and rural Reds.
The Reds want immediate elections, arguing the government is illegitimate because it came to power with army backing through a parliamentary vote in December 2008 after a court decision ousted Thaksin's allies from power.
The government announced emergency rule Wednesday after protesters briefly forced their way into the parliament compound. Lawmakers fled and several senior government figures were evacuated by military helicopter to safety.
On Thursday a Thai court issued arrest warrants for seven Red Shirts involved in the incident.
Prime Minister Abhisit Vejjajiva was due attend a Southeast Asian summit in Vietnam this week but cancelled the visit because of the mass rallies and remains holed up at an army barracks.
"Once leaders who prefer violence are arrested, we believe we can persuade other protesters to leave the protest site," said Abhisit, under increasing pressure to end the protests.
It is the fourth time since 2008 that emergency law has been declared in the capital because of political turmoil.
Abhisit's government has banned public gatherings of more than five people and given broad powers to police and military under emergency rule in the capital and surrounding areas.
But it is anxious to avoid a repeat of last April's clashes that left two people dead.
The army said the number of demonstrators had dwindled after the TV channel was pulled.
But many Reds returned Thursday evening, with police estimating the number peaked at 50,000 in the commercial hub, along with 11,000 in another location.
Supporters of Thaksin, who was ousted in a 2006 military coup, hail his policies for the masses such as cheap healthcare, but Bangkok's powerful elite sees him as corrupt, authoritarian and a threat to the revered monarchy.