BANGKOK, May 30, 2010 (AFP) - Thailand's Prime Minister Abhisit Vejjajiva said Sunday the country appeared to be back to "normal" after the lifting of a curfew imposed in the wake of deadly anti-government protests.
The premier cancelled the curfew Saturday but said emergency rule was still necessary after two months of mass rallies by "Red Shirt" demonstrators that paralysed the capital and left almost 90 people dead.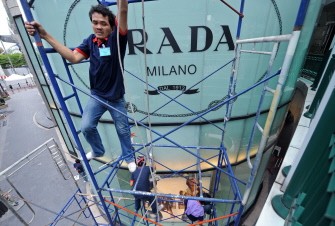 Thai workers climb on a scaffold during repair work on the window of shopping mall in Bangkok on May 30, 2010. AFP photo
"The situation last night was normal. Authorities will keep an eye though, then we'll consider lifting the state of emergency," Abhisit said in his weekly television address.
The Reds' street rallies, broken up on May 19 in an army crackdown on their encampment in Bangkok's Ratchaprasong commercial district, sparked outbreaks of violence that left 88 people dead, mostly civilians, and nearly 1,900 injured.
In an address Saturday to foreign diplomats, Abhisit said Thailand needed to "rebuild the social and economic compact between people and the government," but defended the crackdown.
"I can say that when we took that Ratchaprasong intersection, we took Bangkok back for the people," Abhisit said in the speech, which was broadcast on Sunday.
"No matter what their political views may be, I'm still confident that the majority of our people are peaceful and moderate and they were stunned and dismayed" by recent events, he said.
The premier said he was confident the situation could be resolved through the democratic process, despite a history that has seen 18 actual or attempted coups in Thailand since 1932.
"I think if something like this had happened in the past, people would probably think a coup d'etat was around the corner," Abhisit said.
"Clearly this time around I think everybody is determined that the situation should and could be resolved through normal parliamentary and democratic processes," he added.
The Red Shirts were campaigning for elections they hoped would oust the government, which they view as undemocratic because it came to power with the backing of the army after a court ruling threw out the previous administration.
Abhisit had proposed November 14 polls in a bid to end the rally, but he shelved the plan because demonstrators refused to disperse.
Abhisit told diplomats he had not ruled out an early poll but repeated an earlier statement that the environment must be right for elections.
"Clearly given the way things have turned out over the last couple of weeks, the date of November 14 would now look very unlikely," he said.
Thailand declared a state of emergency in Bangkok on April 7 after protesters stormed parliament in an escalation of their street rallies.
After the May 19 army crackdown, unrest spread to several cities in the Red Shirts' stronghold in Thailand's impoverished northeast, and a curfew was imposed in Bangkok and 23 provinces, out of a total of 76.
Authorities on Tuesday extended a midnight-to-4:00 am curfew for four more nights as the government sought to restore order.
Anyone violating the curfew had faced up to two years in jail. The measures made life hard for people who usually work during the night and put a damper on the capital's normally lively nightlife.
The Red Shirts, many of whose leaders have been arrested and are in police custody, are mostly supporters of ex-premier Thaksin Shinawatra, who was ousted in a 2006 coup.
Celebrated for populist policies that benefited the poor, Thaksin was also accused of gross human rights abuses and corruption.
A Thai court last Tuesday approved an arrest warrant for Thaksin on terrorism charges, which carry a maximum penalty of death, in connection with the violent protests.